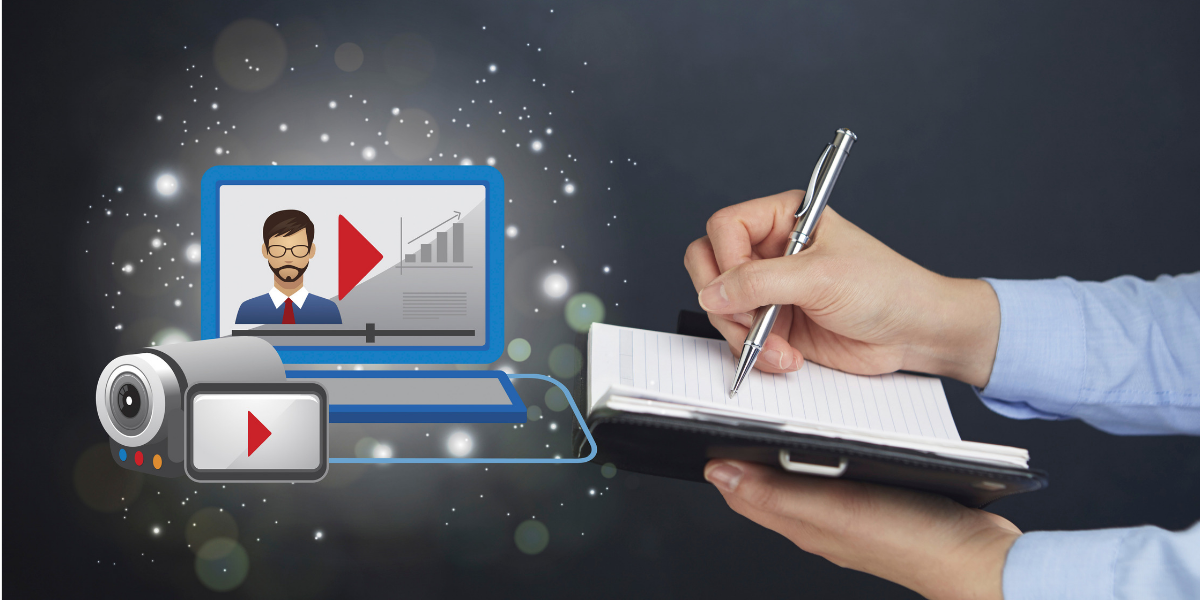 Do you need a high-quality video for your small business? Don't hesitate because you worry about breaking the bank. If your business has a fan or two that loves your services, you can make a great testimonial video on any budget. Employees who love their job with you are also perfect for testimonials.
Testimonials are a powerful way to build credibility and trust for a mission-driven business, whether you do it yourself or with the help of a production company. Let's look at how you can get a useful testimonial with good video production quality and not a lot of money.
What is a Video Testimonial?
Testimonials are videos that use informal interviews, usually with a strong emotional appeal, to support positive features about a business's services, product, or workplace. Testimonials are credible because the person speaks in their own words. Establishing credibility in modern markets is increasingly important because there are more places to get online reviews of a business and more people are using these reviews to determine what they want to buy. A video testimonial is like a personal recommendation to convince people to check out or try your business's service.
Testimonials help build authenticity for your brand because they show a genuine experience.
Benefits of a Testimonial
There are three key reasons for using a testimonial video.
First, it's a video. Yes, that's repetitive but videos are becoming essential in a modern marketing world. According to HubSpot, 87% of businesses use videos as a marketing tool. This was after dramatic increases from 63% in 2017 and 81% in 2018. In fact, 87% of consumers want to see more videos from brands. Using video as a marketing tool is on the rise and has become a competitive necessity.
Second, video testimonials are reviews your business selects. This doesn't mean you should distort the interviews, but you can select the best positives from a legitimate interview. According to a study done by BrightLocal, 86% of customers read reviews for local businesses and 91% trust online reviews as much as a personal recommendation. A testimonial can help increase the flow of new customers because it is a persuasive form of online review when done by a customer or fan who uses your businesses services or products.
Finally, video testimonials build the business brand. Testimonials tell the story of your business. These stories add a human-interest value and makes these videos harder to skip for online advertising. Vidyard put out a list of how small businesses can use video to promote themselves and here is how they describe the branding advantage:
"Watching a video provides both audio and visual stimulation. The mere activation of both of these areas of the brain means that viewers are more engaged and therefore naturally develop stronger affiliation and interest in the content they're consuming. As a small business striving for that brand recognition and so dependent on loyal customers that keep coming back for more, this is crucial."
General Promotional Vs. Testimonial Videos
When you are trying to create a video for marketing purposes, it is easy to cross the lines between a general promotional video (also known as a promo) and a testimonial. A promo risks coming across more as an advertisement, which lacks the authenticity you are after from a testimonial.
Let's look at two examples, one from Champlain College and the other from UVM.
While they are similar in certain techniques -- for example, each uses voice-overs for various shots -- there are a few key differences. One obvious difference is the variety of shots. Champlain College uses more aerial/drone shots, while UVM filmed students at eye level in various locations.
But the key differences between general promotional videos and testimonials come from the focus and resulting authenticity of the piece.
A promotional video talks about the business or organization in the third person while testimonials use "I".
There is generally one perspective and one voice in a promotional video where testimonials are more likely to use different perspectives and several voices.
Promotionals are informative and tend to use a logical appeal, while testimonial videos are more abstract and aim for an emotional appeal by talking directly to the viewer.
As a result, promos risk being seen as less authentic than testimonials because they are not as relatable. This means people will be quicker to click skip on YouTube and elsewhere when your video is displayed because it is harder for viewers to see themselves and capture interest immediately in a relatable way.
The Interview
Now let's talk about the production process itself.
Conducting one or more interviews is the first thing to do because the rest of the video hinges on it. The shot-list, a list of background scenery to film briefly, and the overarching theme or message of the testimonial will all come from the interviews. Your first step is to find the subject and conduct the interview.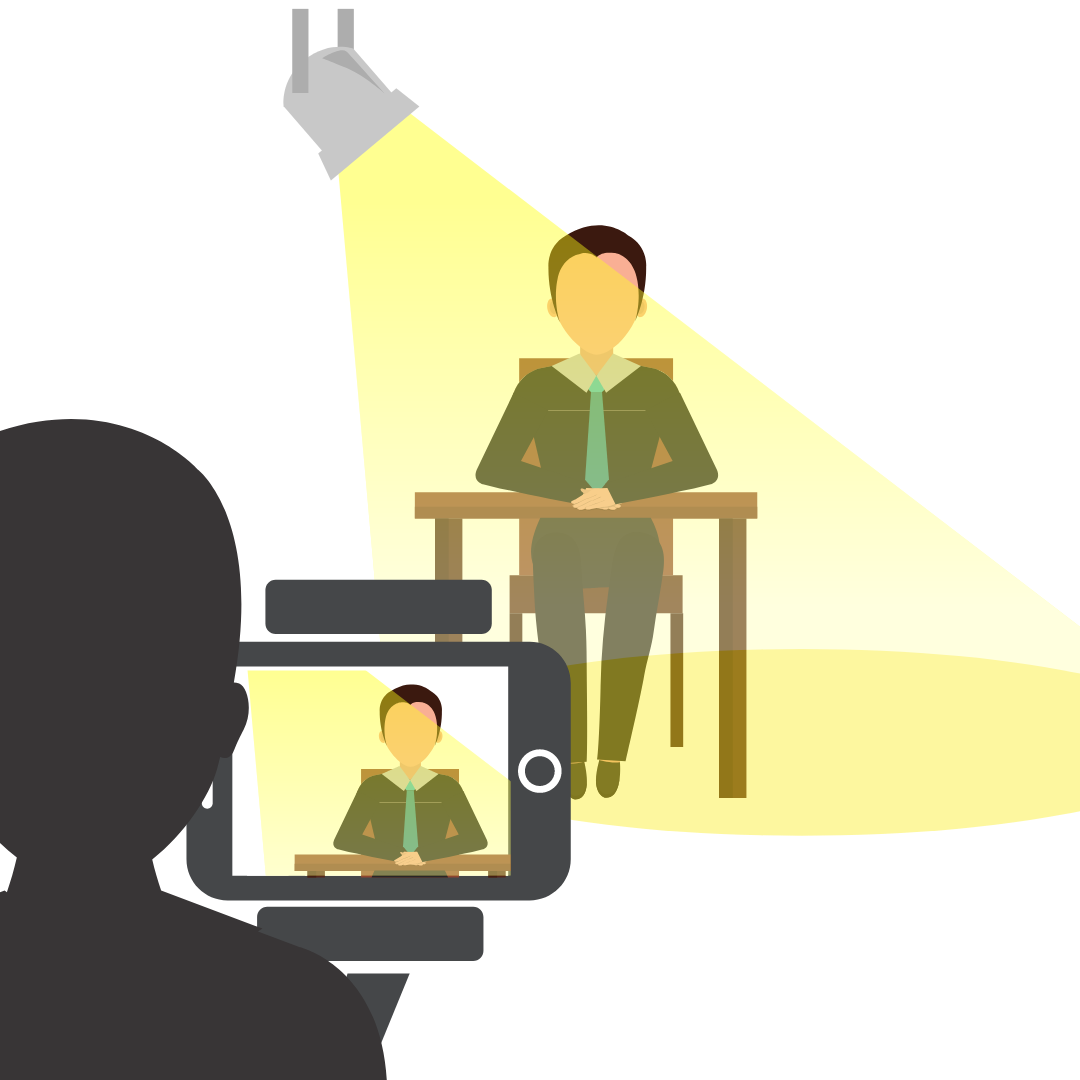 Once an interviewee has been identified, prepare in advance to conduct an effective video interview.
But remember you cannot force feed the conversation. You can ask questions to help guide the conversation but sometimes the interviewee will go off track anyway. This is generally fixed in editing but, if you choose to do the interviews and editing yourself, be prepared for extra time for ramblings and extended storytelling.
Hiring Someone Else
You may decide you don't want to do it yourself and would rather hire a video production company to do the technical work on a project cost basis. Yes, it costs more to outsource your testimonial video but you save the time, effort, and stress of a crash course on video techniques and — professional video crews know how to set up a shot in any location and edit what doesn't work. Note that as a client, you retain control over the messaging in the final edited product from the production company.
Tips for Doing it In-House
High-quality video production doesn't necessarily determine the impact of a testimonial though. The smallest budget testimonial you can do is to use a smartphone and get someone with steady hands to film the interview. While it is fine to start at that level, having a higher quality video does increase the life span and value of the video online.
If you think you will want to produce video regularly, a few small investments can have a big impact. Check out Hiro Soga's Creating Quality Video on a Budget to get started.
Beyond these basics, two additional investments can make a big difference.
Lighting can brighten dark locations and the face of your subject, especially if they are wearing a hat. Production lights for video and photography can cost from $50 to more than $1,000. Lighting equipment is also fairly fragile and light bulbs have to be replaced. Natural light can be used as well, but it requires a lot of positioning and the angle of the light is hard to control. Lighting is essential for in-house production.
Invest in a camera with a mechanical focus ring (not just an electronic zoom, see graphic below) and a matched tripod. A focus function allows the cameraperson to adjust the resolution of the subject to look amazing on camera and allows for more expressiveness as a result. Cameras with a focus start at a cost of $220 (which was the cheapest one I found), but with good positioning of the subject can make a video look high budget. You will also need to keep the camera steady so spend the $25-40 on a tripod that supports the camera you chose. Remember you can also use the camera for promoting events, making announcements, or other video needs so investing in an advanced camera and tripod is a great step for an in-house production team.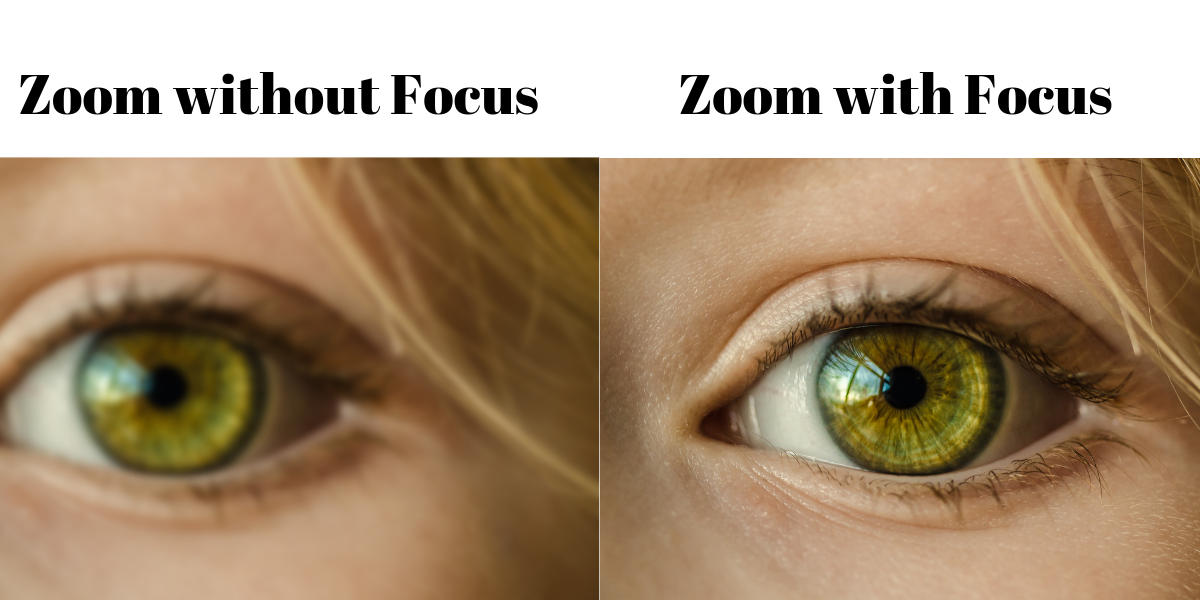 An audio kit is your third investment. Camera mics are basic and there is a lot of fighting between room noise and voices. Having an audio kit can help the voice of the subject come out more prominently and makes your subject sound better in general. While audio kits can cost less than or equal the price of a camera ($90 - $200), a mic costs about $50 and there are free computer softwares, such as Garage Band or Audacity, which help with recording and saving audio. Investing in an audio kit would be more useful since the audio quality is transferred to the original video, and the editor doesn't have to replace the audio every time.
Whether or not you invest in your own equipment, be sure to set up the shot so the face of the subject is visible and the background is clean, uncluttered, and without distractions.
For example. here is a simple video done without special equipment by a volunteer member of WBON, Women Business Owners Network, to promote their conference on April 30, 2019. While clearly not created by a professional video production company, the testimonial effectively communicates one woman business owner's experience sincerely and authentically.
Conclusion
Testimonials can be an affordable and effective marketing tool to spread the word about the positive experiences people have with your business. Whether it is a customer review, an employee's story about your workplace culture, or you as the owner sharing the story of the why behind your business, a testimonial is a powerful way to build the credibility, genuineness, and reputation of your business.
Resources and Related Posts
https://www.marketing-partners.com/conversations2/how-to-answer-wiifm-or-do-i-see-me-now
https://www.marketing-partners.com/conversations2/how-to-conduct-effective-video-interviews
https://www.gydes.com/top-ten-university-broadcast-commercials/
https://www.vidyard.com/blog/7-components-testimonial-videos/
https://www.productionhub.com/blog/post/5-tips-for-nailing-the-customer-testimonial-video
https://www.vidyard.com/blog/should-you-produce-video-in-house-outsource/
https://www.brightlocal.com/learn/local-consumer-review-survey/
https://blog.hubspot.com/marketing/state-of-video-marketing-new-data
https://www.vidyard.com/blog/17-reasons-small-business-need-video/
-----
Kevin Roberts is a senior at Champlain College majoring in communication. He started video work in the third grade and has enjoyed continuing to learn more ever since.