Public Interest Communication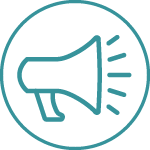 Public Interest Communication is a discipline based on applying new language, insights and techniques to the classic social marketing approach. The field borrows elements from its sister fields of public relations, advertising, journalism and marketing, but is informed by sociology, psychology, political science and neuroscience.
It is the development and implementation of science-based, planned strategic communication campaigns with the main goal of achieving significant change and sustained positive behavioral change on a public interest issue that transcends the particular interests of any single organization.
So at its basis, Public Interest Communication is using communication to drive social
change.