Behavior Change and Classic Social Marketing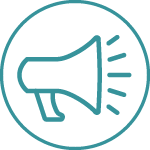 Social marketing programs...
Are designed to achieve a specific social good, that is they work to help people make better choices or to improve society or the world in some way, rather than to benefit the sponsoring organization.
Focus on individual behavior or systems change, not just awareness or attitude change.
Are based on formative research with the target population involved, and on the benefits and barriers-to-change affecting behavior.
Involve multiple public sector and nonprofit partners.
Are designed based on a combination of research-based social change theories and behavior change models such as diffusion of innovation, social norms, stages of change model, social learning theory or theory of planned behavior.
Social marketing is not the same as:
Social media marketing
Cause marketing
Viral marketing
Word of mouth marketing
We offer our public agency and nonprofit clients support for using a proven social marketing approach to achieving behavior change goals. We have decades of experience and are particularly enthusiastic about opportunities to partner on an integrated social marketing program with classic characteristics.
Check out this blog post for more on the differences between these various disciplines.