Training. Coaching. Speaking.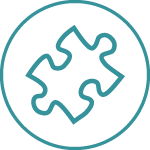 Marketing Partners offers customized training and ongoing coaching for individuals and teams at mission-driven organizations. We are also available to speak at conferences, workshops and in private settings.
You can learn more in the overview below, and we invite you to contact us to discuss your needs. Please note that training and coaching services are generally available only for current and past clients.
Training
Training focuses on something specific and can be a one-time event. Trainings are often used for new technology, situations, or changes in approach and processes.
Key characteristics of our training services
Learning focused
Adapted for multiple learning styles
Provide new knowledge and skills
Generally takes place with groups
Used to help you and your team to do a specific task
Tailored for your organization
Fun
Training topics
Board Message Training
Content Marketing 101
Creating a Culture of Content Marketing: Reaching the Next Level
Developing Guidelines for Content Producers
How to Use Your Message Triangle
Inbound Marketing 101
Marketing Analytics and Measurement Reporting
Media Training 101
Search Engine Optimization Basics: SEO, What it is, why it matters, how to do it
Social Media Management and Current Best Practices
Video Marketing 101
Coaching
Coaching is an on-going activity with your employees designed to help advance their marketing capabilities and contribution to your organization. Because coaching is hands-on and specific to your current priorities, coaching services are only available to current clients.
Key characteristics of our coaching services
Development focused
Encourages critical thinking and decision-making
Usually takes place one-on-one
Informal or unstructured
Used to improve capabilities and level of performance
Speaking
Every year, team members at Marketing Partners receive multiple requests from colleges, local schools, business and community organizations, and other groups to speak at conferences and public events. We enjoy contributing to our community this way. Please contact us for your upcoming event.
A sampling of speaking engagements
Framing messages to be heard: Words that work across the divide

; VBSR spring conference

Social Media for Mission-Driven Businesses; American Sustainable Business Council webinar
How to Close the Deal: Tips for Reluctant Marketers; Women Business Owners Network, Burlington
Toward a New Future for Women, Diversity and Inclusion

; ASBC White House Business Summit

Twitter Chats and Storytelling; Women Business Owners Network fall conference
Bias Free and Inclusive Language; VBSR spring conference
Media Training for SR Businesses

; American Sustainable Business Council webinar

Content Marketing for Values-Led Organizations; VBSR spring conference
Sustainable Business, Stronger Communities and Economic Development; ASBC White House Business Summit
Sustainable Business & Benefit Corporation Leadership: Practices in Support of People, Profits and Principles; UVM Grossman School of Business
Behavior Change & Social Marketing: Common Pitfalls, Practical Tips; High Meadows Fund Reducing Fossil Fuels conference
Social Media in the SR Business: Powerful Opportunity or Facebook Fiascos and Twitter Troubles? VBSR spring conference
Maximizing the Value of Your News; WBON fall conference
Break the Rules; Women's Small Business Program graduation, Mercy Connections
Public Health and Social Marketing, 4 Case Studies; UVM College of Nursing and Health Sciences
Navigating to the Future You Want with M/WBE Government Contracts; SBA Vermont keynote