What is a Mission-Driven Business?
Mission-Driven Business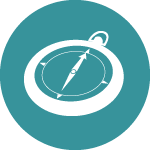 Whether you prefer the term mission-driven, purpose-driven, socially responsible, people-planet-prosperity, triple bottom line business, or social enterprise — you share our commitment to more than profit and strive to incorporate a social mission in your strategy and operations.
From our founding, Marketing Partners has been privileged to help values-led small and mid-size businesses with a Vermont connection to advance their mission through effective communication. We believe the products and services of mission-driven businesses create positive social impact both when they are made and when they are used.
Mission-Driven Marketing
Roughly four-in-ten people make purchasing decisions based on your company's alignment with their values, and this percentage is increasing with younger generations. How do you engage authentically with these customers in ways that grow your visibility and reputation on social networks and the search engines? How do you deeply collaborate and partner with them to create positive social impact? With limited resources, how can you punch through the clutter and noise to turn awareness into action? You are not alone. These are questions mission-driven marketers struggle with in both business-to-consumer and business-to-business sectors.
Humble Marketers
Over the last 40 years business changemakers have explored new language in an attempt to distinguish an authentic commitment from what is seen as merely window dressing for a profit-only model. It's as if the more that traditional and mega-corporations paint themselves in the triple-bottom-line language, the less comfortable become those for whom these values are at the core of who they are and why they were founded. If you've ever hesitated to mention a core sustainable or values-led business practice in your communications, then you may suffer from what we refer to as reluctant marketer syndrome. We can help.