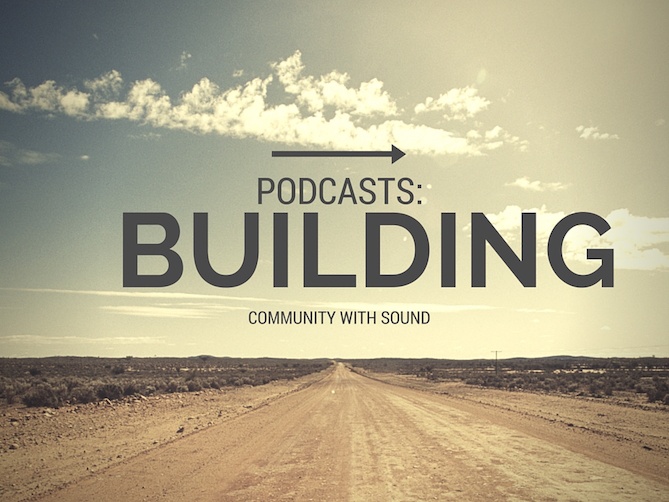 Lately, whenever I have free moment I've been listening to podcasts. Just like any other type of media content, digital audio segments can be funny, sad, interesting and informative, all at the same time. They can be a source of education and of creative inspiration. They can also be a great way for your organization to produce additional content for your community with a quick turnaround.
Let's say you already write a weekly blog and have incorporated a few videos into your content strategy, adding an audio format may be in your future. Podcasts are an easy way to connect with and increase your community by taking listeners for a behind the scenes look into your organization and mission. As a listener, these digital stories are also a great way to broaden your horizons and inspire you to look at things with a new perspective.
Media in transit
What I listen to depends on my mood but overall it is a nice way to spend time on my morning commute or during a morning runs. There is an intimacy to listening to audio. You are walking the dog, you're in the car, or maybe you are listening to one while making dinner. Producing a podcast adds a way for your community to learn from you wherever they happen to be. They don't have to be on a computer to hear you tell the story behind your latest mission-driven company initiative.
Be interesting
Besides looking into the technical aspects of producing, you'll need to decide on your perspective. Think of your audience. Don't assume your community wants to hear the granular details of the last business meeting. Try offering up a story about your latest campaign or educate them about a particular topic that has come up in the news lately.
Content Control
Each episode can be as long or as short as you would like to make it. As long as you are consistent in your structure and voice, you can change things up anytime you want to.
Thought leadership
Use your expertise and your connections. You are the expert on your company's mission. Use that. Educate others and help them learn something new. If you are perceived as a thought leader, they will come back for more. Take advantage of your connections; ask them to be in an episode.
Listen and learn
If you're interested in entering the world of podcasting, make sure you listen and learn. Find your favorites and learn from them. You can also learn from the ones you don't like too. Start using your company voice and before long, you'll be connecting with your community one ear at a time.
Here are a few of my faves:
The Growth show
Produced by HubSpot, the growth show is a business podcast that highlights business leaders focused on their definition of growth and success. I enjoy hearing the different perspectives from both large and small companies.
The Accidental Creative
I always find inspiration in Todd Henry's short essays and actionable steps towards tending the fire of creativity in all of us, and I enjoy learning from his many guests as they discuss their background and their perspective on staying true to your voice.
The Ted Radio Hour
I get sucked in to TED talks all the time. People speaking passionately about an interesting topic they love? I'm there. What is nice about the TED show radio hour on NPR, is that the shows are grouped by a particular theme. Who doesn't want to hear from experts and creatives speaking ont the source of creativity or why we collaborate.