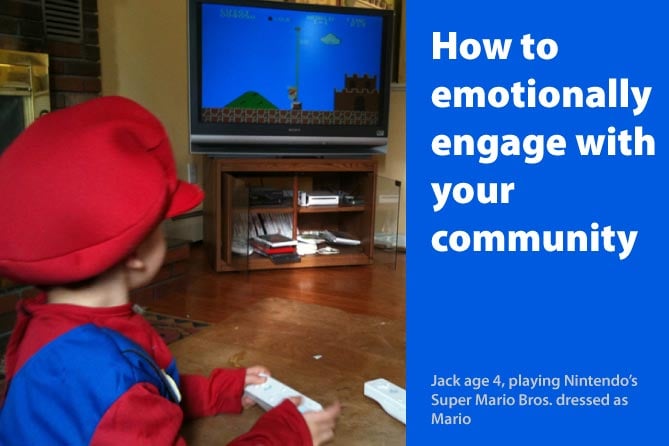 Helping your community emotionally engage with you is a great indicator of marketing success. Building an emotional connection can take many forms. And because of one company's success in connecting, I recently found myself in a position that would never have occurred to me. I had to explain to my eight-year-old son that the president of his favorite company passed away. My husband and I actually had to sit down and discuss how we were going to handle it before "the talk."
In our house, Mr. Satoru Iwata, President of Nintendo or Mr. Iwata as he was known, was a presence. I should add that video games are also a presence. My son Jack would often watch Nintendo-produced videos of Mr. Iwata speaking to the gaming community. And he looked forward to traveling to Japan to meet Mr. Iwata. In my son's mind, Mr. Iwata was a friend who connected him to his favorite games and game characters.
The Walt Disney Company might be a possibility, but beyond Disney and Nintendo I can't think of another company with such a consistent emotional link to both children and adults for more than 30 years. While these are both large companies that have been around a long time, that doesn't mean other smaller businesses or organizations cannot use many of their marketing strategies and communication techniques for connection.
How to emotionally engage with your community
Speak to your community directly
In 2011, Mr. Iwata instituted a monthly video series called Nintendo Direct where he would often introduce new games or discuss new developments at Nintendo. And that is how my son came to know the president of Nintendo. We often would sit down and watch these videos every month. The videos were informative and fun. Mr. Iwata's sense of humor and humble nature came through in each and every video. With these videos he and other members of the Nintendo team came to personify the brand for a lot of community members. Not everyone has the resources to produce video on a regular basis. Find the outlet that best fits your company and best suits your community. A monthly newsletter, active blogging, and a consistent social media calendar can all serve to help you stay connected to your community.
Be Authentic and Transparent
Mr. Iwata was known for his sense of fun and his honesty. As a former game programmer, his love of Nintendo and games came through in his interactions with the media, with his employees and with the gaming public in general. He walked his talk. When a product was going to be late or it wasn't up to par, he would often say "Please Understand," and explain the issue at hand. Gamers liked that. Keep your community updated and help them understand what is going on. They will appreciate it.
Show your Personality
Every company has a personality. And Nintendo is lucky to be personified by many iconic game characters. It is a game company, so fun and the importance of play is important. And there is a big focus on the overall brand and emotional connection to the community. Whatever your company personality is make sure you let it show. There is nothing more engaging than seeing a company communicate and love what they do. Whether it is passion for a product or a cause, a brand's communication should reflect the emotions it wants to evoke in the community. Help your community understand what you stand for and who you are. Your passion will energize them.
Be Informative
Keep your community up to date on what is going on with your day to day activities and future events. Take advantage of the immediacy of social media and share your news and content with the community.
Consistency is Everything
As with anything that is "successful" consistency is one of the most important elements of a brand. Every piece of content and communication needs to sound and look like it comes from you. Have a consistent style guide for both your visuals and your written content and communications.
To truly connect and engage with your online community, you need to know them. Business owners know that success is about building relationships. Find out where your community is and start a conversation.