The last time you strolled through a tradeshow you probably made a mental note about those booths and displays that were really engaging and those that looked a bit weak or boring. Here are a few ideas about how to showcase your brand in the best possible light, for the price that fits your budget.
Size matters
This doesn't mean you need the biggest booth. Scale and proportion are key. Even the smallest booth or tabletop display, properly designed, can make a lasting impression. There are a variety of products available that can fill your space effectively. Eyepath is important, as well as ergonomics, or how someone fits in and moves through your space. If you have just a table, that would drive your display decisions in one direction, and limit your product choices; if you rent a 20' x 20' booth, that's a whole other ballgame, with many more options, either using off-the-shelf products easily purchased and printed online, or planning and implementing more customized solutions.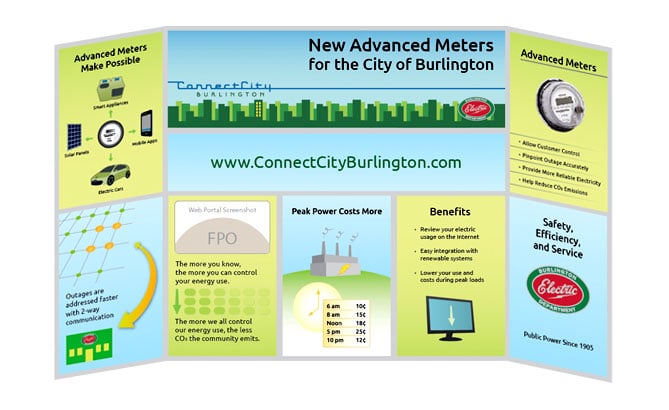 The tabletop display
Though not as cool as George Jetson's car that folds up into a briefcase, these foldable, freestanding units are a quick, portable and convenient way to display your identity materials, campaign or messaging simply by opening up on a table top. When the day's over you fold up into a lightweight case and you're on your way. Also relatively inexpensive, and if designed effectively you have 6 feet wide by 4 feet tall of glorious image area to get your message out there.
The table covering
Table coverings or throws can be printed in any color, and there are many fabric options and different sizes. Some table covers are stretch fit, others drape like a table cloth. You can feature identity elements or other graphics printed right on the fabric, or even full bleed photos and text, top and sides. You can also buy fabric runners to complement the main table covering. Many vendors. Many solutions.
The Basic Banner
Can be printed in many sizes and proportions, in a variety of materials and finishes—glossy or matte, textured or smooth. An inexpensive and fast way to make a big impact. Pay attention to how it will be displayed—if there are hanging options you may want grommets, or some venues have fabric-walled booths that utilize the hook side of hook and loop fastener that has been permanently affixed to the back of the banner.

The Venerable Pullup Banner
This is a great medium to showcase your identity materials, your latest campaign. Portable and relatively inexpensive, this banner ranges from 7-8 ft tall and 24-48 inches wide. These make quite a bold, life-sized statement when designed with strong colors, images and/or photos, and typical turnaround time is pretty quick. They are quick and simple to set up and transport as well.
The Pop-up Display
Ranging in size from tabletop to wall size, this option features a popup structure upon which a single large, or multiple smaller graphic panels can be easily attached. Some of these have lighting options—you can light the front of the panels, or have displays printed that can be lit from behind, providing a dramatic punch to your images. Can be flat or curved, tall or short. This is a relatively expensive ioption and can take awhile to setup, and require several cartons. You can mix and match larger, wall sized backdrops with other display media in creative ways, for example if you have messages, products, stories or photos that work well graphically with a dominant image in the background.
The popup is a tremendously versatile medium, The curved popup can be paired with the same display skinned on the other side, creating an s-shaped curved pathway in your larger booth. Mixing and matching photo panels, messaging, solid color identity panels, either be backlit or solid and opaque, gives you an almost endless variety of ways to attract, captivate, impress and engage your visitor and entice them to be a customer.
The Backlit Display
Printed by a professional graphic printer to be rich in color, yet translucent, this medium has many size and installation options. These range from panels sized to fit the popup display described above, to customized frames or lightboxes. The obvious companion or alternative to this static display is flatscreen monitors which can stream a live video feed, a company's video brochure, rotating images and messaging, or live demos from a company's website, for example.

Product Displays, Brochure Holders
If your company sells a product, displaying it properly is key. If you have customized retail displays you will probably want to bring those if space permits. If you have an industrial machine you can feature it on a platform in front of a graphic product like the pullup banner or tabletop display described above, or go for a more customized platform/graphic display combination.
There are many off the shelf options for displaying print collateral such as brochures, flyers, catalogs, etc. Providing a take-home reminder for your visitor is important, and you may want or need more than just a general capabilities brochure or catalog. Consider sell sheets, branded promotional items that have the look and feel of your trade show display to ensure a cohesive memorable brand experience even after they've left your booth.
Floor and Wall Coverings
Sometimes overlooked, these elements can be key elements in or the finishing touches on your identity. Could be as simple as choosing wall or floor coverings with your corporate colors, or a more involved commitment to incorporate images, messaging and identity elements into these coverings, which can be sourced from professional display printing companies.
Furniture, Lighting
Again, sometimes these elements are overlooked. Good lighting is essential to a positive visitor experience, and there are many options already included in some of the display products detailed here. Augmenting those options can be as easy as adding some strategically placed LED spots or floods, or your solution can involve a more thorough exploration of available light sources, LED, halogen etc.; desired or require amount of light (lumens); quality of light (spot or flood, color temperature) and how it fills your space or highlights products (spread, ambient, or task).

Comfortable, appropriately designed or sourced furniture can say a lot about your commitment to your visitor or custome brand experience. Creature comforts are often appreciated and can lengthen a visitor's stay. If you have the room, consider the options carefully.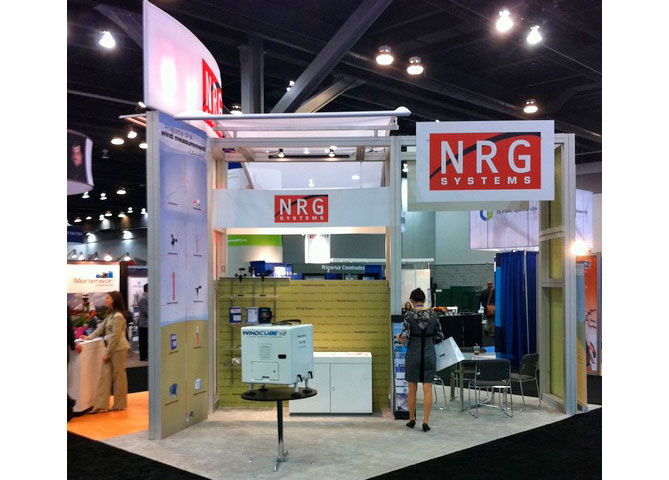 Custom, Custom, Custom
The most expensive and the most complete immersion into trade show display world is to use one of the many vendors worldwide who specialize in booth design. From design to printing to custom fabrication of displays, furniture, lighting, structures, electrical and multi-media solutions, and building complete environments, these vendors feature infinite combinations and possibilities with which to tell your brand story. The sky is literally the limit with this option.
Bottom line is you have many tried and true options to make a spectaculer impact in the sometimes crowded, distracting and fast-paced tradeshow environment. Once you've determined your budget, allotted space, and the venue's resources and available support, then you can have fun figuring out how best to outfit your island.