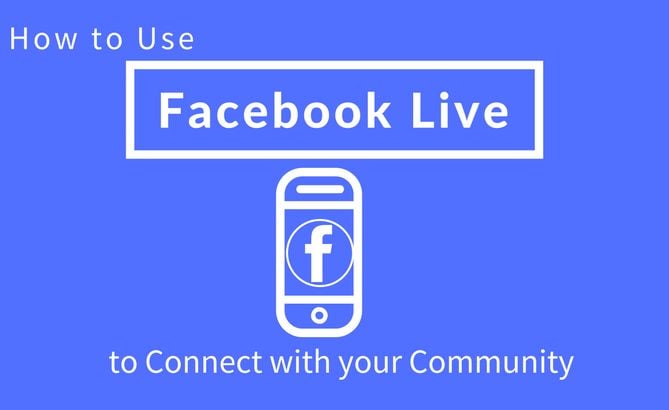 In today's social media marketing world, it's hard to stand out. It's even harder to stand out and connect with your community at the same time. One opportunity for social media marketing made its debut this year, Facebook Live.
Taking Advantage of Facebook Live
Facebook Live is a new feature released in April. It allows users to stream live events, right as they are seeing and experiencing it, through Facebook.
Digital marketer Jeff Bullas mentioned in his blog post that out of three billion active Internet users, two million of them have social media accounts, and of those, there are nearly 1.4 billion people on Facebook.
Facebook Live is another way to successfully use inbound marketing to draw your audience to be a sale. Here are a few ways you can set yourself apart from competitors by using Facebook Live well:
Prepare
Even if it seems like a spontaneous live videoo, preparing is the most important communication tool that's been in marketing for years. Write up talking points of what to say and not to say about your business. It's essential to think through your message triangle so you can talk in a compelling, credible, and concise manner.
Promote
It's important to promote any event you have for your business. With a series of social media teasers, you can grab the attention and peak the interes of followers.
And sometimes, Facbook does a little work for you, but it doesn't mean you can slack. Facebook can even notify followers that your event, Q&A, PSA, interview, or any other live screening is happening. People can tune in right on their phones for as long as they want. People can know where you are, who you're with, as well as react and comment every second. Just like preparing for any other event, you still need to drive the followers of your business to the Facebook Live video.
Engage and Connect
A successful chat or event on Facebook Live has companies reacting and replying with viewers' comments so effectively build community engagement. Take Benefit Cosmetics for example. They provide live, online tutorials and explanations for their products and offer time for viewers to ask any questions. This shows that Benefit cares about their customers. This is a brand I interact with and follow on social media. (Please see our Disclosures and Relationships policy for details.) These online forums through Facebook Live are just another way to build those brand connections with costumers.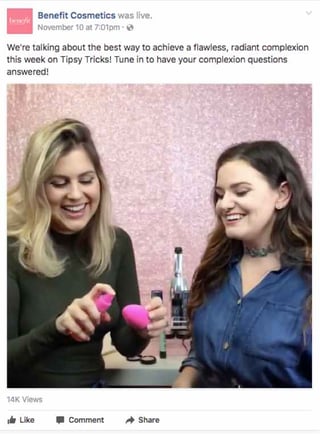 Show Your Business's Personality Through Facebook Live
This social media tool can be effective to show the fun side or specific personality of your business. As Tara mentioned in her blog post, connecting with your community in an empathetic and emotional way is important for marketing success. So, figure out the personality that your business portrays, and then figure out ways to show that in your Facebook Live event.
Use Facebook Live Updates Creatively
Facebook is constantly creating more and more ways to interact with your audience. Now, you can create a Facebook Live event without filming anything. You can show reactions in realtime for any poll you create to generate conversation for your business. This can be any fun poll from, "What's your favorite summer vacation" to "How do you deal with stress?" If it's a poll related to your business, you can generate conversation and build brand engagement.
Measure Success
You and your business can measure success before, during, and after your Facebook Live event. By promoting through social media posts, you can see if people are liking, commenting, and clicking any links to your website for more information. During the event, Facebook has allowed you to see how many people are viewing and for how long they've viewed your live stream. Comments and reactions are displayed just as the event occurs. After the event, Facebook provides analytics for likes, peak live viewers, unique viewers, and minutes viewed.
Always stay up to date with social media platforms. Social Media Today is a source that writes about updated across all social media sites. By staying on top of social media trends, your business can identify opportunities to stand out among the noise of others' posts and connect with your community.
Megan Sullivan is a senior at Champlain College specializing in public relations and marketing. Originally from New York, she hopes to write for mission-driven clients in a public relations agency.