As a business owner, you most likely already know how critical it is to be active and visible online. Google prioritizes mobile friendly sites over sites that aren't mobile friendly when listing search results. Considering the oversaturation of websites online, having a mobile optimized website can make your business stand out. Let's look at exactly why and how mobile optimization will improve your business.
Why is Mobile so Important?
Mobile use is dominating and mobile devices account for 52.99% of global Internet traffic. For some consumers and clients, your website could be their first impression of you. Maintaining a strong web presence opens this mode of communication between you and your clients and builds credibility.
Websites that aren't mobile optimized usually have longer load times and smaller text. Causes of slow-loading content relate to images displayed on the site not being optimized and code that needs to be cleaned up. This frustrates customers and causes them to leave your site faster. Optimizing your website and holding on to these visitors will improve your website ranking on search engines and increase customer satisfaction.
Determining if Your Site Needs to be Optimized
Before you decide which option is best for your business, you'll have to consider whether or not your site needs to be optimized for mobile. This is based partly on your client base and web traffic.
Check your Google Analytics for mobile traffic and look at the length of time your audience is spending on your site. For most companies, <30% mobile traffic is a sign that your website needs to be optimized for mobile. Notice any differences between your site's bounce rates on mobile or desktop devices. This also can tell you if your site needs to be optimized.
Thankfully, you have four great options to improve your site for mobile device users you can choose from based on your business and your clients.
Option 1: Mobile Friendly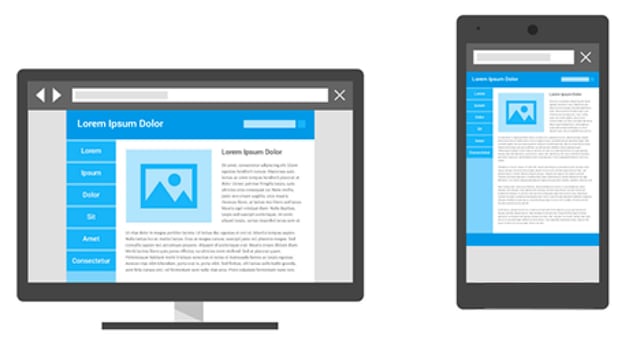 [Source: Design Modo]
The first option is a mobile friendly site. This is the bare minimum when it comes to mobile improvements. Mobile friendly sites were designed specifically for the desktop platform and then become simply a shrunken version of your desktop website when viewed on mobile. This frequently means the text is too small for most people to read and certain aspects of the design don't transfer over well.
Option 2: Separate Mobile Site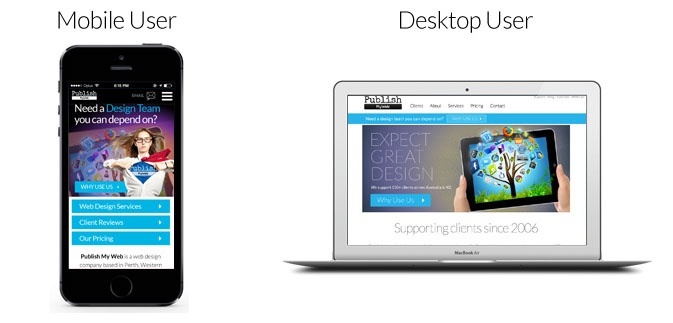 [Source: Publish My Web]
The second option is to create a separate mobile site. Under this model, you create a separate version of your site that is specifically designed to cater to mobile users. This model takes advantage of easy tap-to-call, tap-to-email, or tap-to-purchase features on their site, making mobile users' experience with the site quick, efficient and simplified.
However, this option requires double the work, is often expensive and some aspects of your desktop website won't transition properly to mobile. To combat this issue, some companies have opted to create separate apps for their mobile users so there is no loss of design features, rather than designing a separate mobile version of their site.
Option 3: Mobile-First

[Source: Soulful Hustle]
Another great option for optimizing your site for mobile is a mobile-first design. As the name suggests, mobile-first sites are created specifically for the mobile platform. This option often uses a simple design with a single column layout that is simply scaled up when being viewed on a desktop, usually with little loss of website features when transitioning between different platforms. This can be a good alternative to creating separate mobile and desktop versions of your website.
Option 4: Mobile Responsive

[Source: Soulful Hustle]
The last option is a mobile responsive site. This model, like the mobile first model, is very thumb-friendly. It makes information simple to access and clearly organized. Unlike the previous three models, mobile responsive sites aren't designed for a specific device, but rather are designed to cater to any device.
The responsive option completely scales and reformats your website's properties ''responsively" to the screen it is being viewed on so your content can achieve maximum readability and usability on any device. It frequently features ground-up framework design that allows for a seamless transition between mobile, tablet and desktop interfaces. This means that the site's code calls for the content to be displayed differently. For example, a large photo on your desktop site may not display at all on mobile. The result of this design framework is shorter load times and easy-to-read and easy-to-access content.
Best Practices for Mobile Optimization
If you have looked at your client base and Google Analytics and have decided that it's time to optimize your website for mobile devices, consider these tips:
Don't require users to type anything unless completely necessary
Give consumers a full desktop view option while on mobile mode
Use short bricks of text and pay attention to the readability of text
Break up text bricks with images
Tip: To ensure an even more seamless transition between device platforms, make sure that your website uses photos that are optimized for the mobile version. This will guarantee shorter load times and therefore higher engagement and satisfaction from customers.
Content Shifts in Response to the Rise of Mobile
In addition to your website format, your content needs to evolve in order to best take advantage of the changes that have come with the rise of mobile use. A major way the rise of mobile affects your content is based on the new way we are searching for information online.
Pillar Content
While it was common to rely on keywords and search in fragments for your search, we are increasingly searching for information in a more conversational way than ever. Search engine algorithms have changed to keep pace with this shift, affecting the way we receive search results. In turn, the way we organize and connect our content has shifted. This accounts for a rise in pillar content.
Rather than a site that simply has lots of stand-alone articles with keywords, pillar content is connected by singular broad topics. All articles that cover this topic are found on the pillar page, which then segments these articles into clusters by subtopic. In each individual article, the over arching topic and subtopic are expanded upon. The pillar page and each subtopic cluster are constantly linking to each other, which compiles your information in a relevant way and connects users to related content. Beyond organization, pillar content is organized so that as any one article succeeds in search engine ranking, all the other articles in that cluster will succeed too.
Conclusion
Mobile optimization provides your business with a guaranteed, concrete and measurable advantage over your competitors who are lagging behind on user-friendly design trends. Optimizing your site for mobile ensures shorter load times, higher search engine ranking and higher user satisfaction. Think about which of the four options is best for your business:
Mobile Friendly
Separate Mobile Site
Mobile First
Mobile Responsive.
Consider optimizing your website for mobile to ensure everyone gets the chance to enjoy your awesome website, regardless of the device they're viewing it on.
Resources
Mobile-friendly vs. Mobile-Optimized vs. Responsive Design, (Torspark)
Why You Absolutely Must Have a Mobile Optimized Website, (Business2Community)
5 SEO Basics for Your Quality Content (Marketing Partners)
-------
[Mikayla Varunok is a senior Public Communications major and Applied Design minor at University of Vermont. Originally from New York, she hopes to return and pursue a career in marketing.]