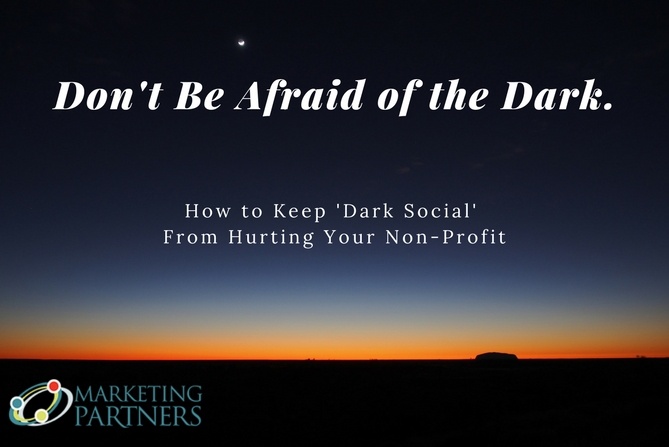 In a 2016 study conducted by RadiumOne, it was reported that 84% of online sharing was now being conducted via 'dark social,' with Facebook coming in second at a mere 9%. At this point you might be thinking, 'What is dark social and why didn't I know about it until now!' And that's exactly the point.
What is Dark Social?
Originally coined by Alexis Madrigal in a 2012 Atlantic article, 'Dark Social' is a term used by marketers to describe the social media interactions that cannot be tracked by analytics. For example, a link to your website shared between friends on the Facebook Messenger app or through a standard email cannot be tracked using traditional analytic tools such as Google or Hootsuite.
Why Nonprofits Should Care
So how does this affect nonprofits? Metrics are the ways in which we measure the success of marketing campaigns. They provide marketers — and, in turn, their nonprofit's executive director —with tangible evidence of what's working and what's not, which can then determine which campaigns continue to be funded and which ones don't.
If 84% of your campaign's activity is left in the dark, then the metrics behind your campaign aren't going to accurately represent what's working and what's not — leaving you in the dark.
Turn on the Lights
Just this past year it was reported that Facebook Messenger alone has reached the one billion users a month mark. Untracked social can't be ignored: in order to be successful, nonprofits need to turn on the lights. Some key steps to take:
Use Social Media Buttons
There are two different types of social media buttons: one is buttons placed beside each piece of content on your website that can be clicked in order to share that piece of content via various social media channels. The other is buttons placed around your website that can be clicked in order to follow your company on various social media channels. Both are important in combatting untracked social because they provide your community with easy ways to engage with you and your content, reducing the need to go dark.
Optimize Your Website for Mobile
We've already gone over why it's so important to optimize your website for mobile, but considering that 62% of untracked social shares come from mobile devices we really can't say it enough. If your website features social media buttons but they don't function or aren't visible on a mobile device, more than half your visitors will still be opting to use dark sharing.
Optimize Google Analytics
Google Analytics is a great tool to track your website's metrics, and there are ways to format it to start identifying referral trends, too. The main idea is to separate the direct visitors to your website into two different categories: those who landed on your homepage, and those who landed on a much more specific link, like www.yourhomepage.com/archive/may/articles/going-green-for-spring.
It is unlikely that someone actually typed that url into their browser themselves; it is much more likely that they had it sent to them via untrackable social. By separating these two groups in Google Analytics you can begin to track just how much untracked social your website is likely attracting.
Don't Be Afraid of the Dark
Dark social can be pretty intimidating — the ominous name doesn't help — but don't be afraid of the dark: It can be a very powerful referral tool. In a Nielsen study, 84% of people reported always or sometimes taking action based on personal recommendations. Moreover, 74% identified word-of-mouth as a key influencer in their decision-making. Referrals are one of the goals of social media marketing and ultimately, dark referral activity is a positive sign that your marketing campaign is working. With these simple tips to help your nonprofit turn the lights on, there won't be any reason to be afraid of the dark.
-----
Pal Hollywood is a Public Relations professional specializing in storytelling. Thrilled by all things creative, Pal hopes to work in the field of arts & entertainment. With a name like Hollywood, it just makes sense.