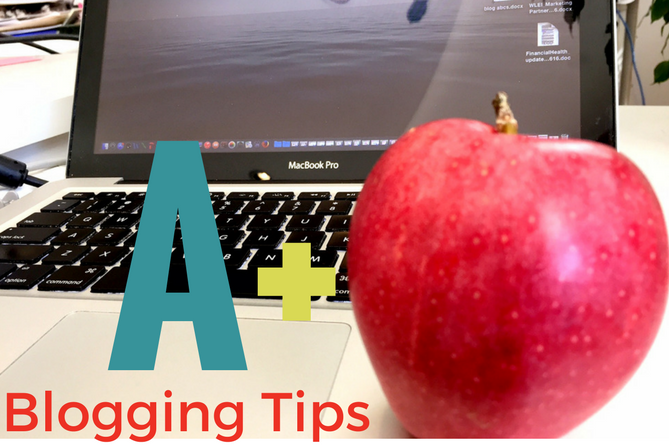 For a lot of us, back-to-school means change. Change of schedule, change of traffic patterns, but I like to think of September as an opportunity to start over and assess. I last wrote about the back-to-school season in B is for Blog. With every new year, it can be nice to step back, review and then move forward with intention and planning. It is time for you to level up to the next grade and update or change the way your team has been thinking about the company blog. Over the last year, I'm sure you have all been taking the advice of B is for Blog, right?
Let's recap the "B is for blog" tips:
Be committed
Be informative
Be sure about the details
Be inspired
Be a good friend
For next level blog planning and development, here are five more additions to your toolkit.
Visuals
Whether you incorporate video, stills or designer made infographics, visuals are an important and necessary element to any successful blog post. They are a vital and efficient tool for communication with your reader. Do not throw that away. In today's online world, visuals are expected and necessary. They do not need to be complicated. Use the images that best reflect the information and tone you are commmunicating.
Planning out your calendar
Why have an editorial calendar? It can add even more value to your blog. Incorporate your blog into your marketing strategy. Do you have events or campaigns planned for the coming year? Write articles centered around the events or promotional campaigns. Or consider articles aimed at the audience you most want to connect with.
Promote Promote Promote
Incorporate online promotion into your plan. Be sure to use the proper hashtags to connect with new followers that may not have already known of your blog. Schedule social media posts to promote your latest article. Incorporate it into your latest newsletter. Help readers find your blog and find you.
Review and Assess
Periodically review your blog analytics. Which post received the most attention? Which topics received the most social media engagement? Be consistent with your scheduling and take a look at an overview of your topics and articles. Decide if they have been in line with your goals and strategy. If they haven't, reassess and change direction.
C is for consider another blog
A "blog" is really just a type of functionality that allows you to upload new online content on active basis. If things have been going well with your current blog, maybe you should consider adding another that reflects a different element of your organization. Add a "blog" to your website that won't add a lot of extra time to your busy schedule, perhaps a blog centered around news or upcoming events using short quick updates. This is another way to communicate who you are as an organization, to bring in new community members and to drive visitors to your website.
Bottomline
Having a blog means having an ongoing conversation. And during conversations we learn new things, we share our knowledge and most importantly we connect. And it is in the finding of these points of connection that we increase our community and graduate to the next grade.