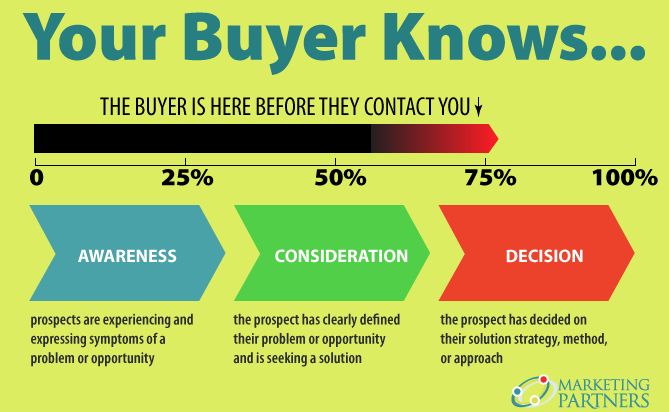 The sales dynamic continues to change, and today's buyers are better informed and further along in their decision process before they first reach out to a company or sales person. With information so readily available to buyers in every industry, your buyer is often 50% or more through their journey before you even know they exist. Your buyer knows more than you do about their journey at that point — putting your sales team at a disadvantage. If you want to change the situation, inbound marketing offers a solution by proactively attracting and nurturing prospects at every stage in their journey.
The Classic Buyer's Journey
In the simplest terms, your buyer goes through a journey of Awareness, Consideration, and Decision. While the path and time each potential buyer or prospect takes are unique, they each move through the same stages.
The average customer checks 10.4 pieces of content before reaching out according to Google's Zero Moment of Truth research. So you want to be sure they are aware of who you are first. You want to be sure your content is included in that initial information gathering. But how?
Awareness
In this stage, your potential buyer has a problem and is seeking a solution. In the awareness stage, prospects are experiencing and expressing symptoms of a problem or opportunity. They are likely searching what other people have done in a similar situation. You attract them by providing content that helps them define the problem and shows possible solutions.
During the awareness stage, you can frame the problem and potential solutions. If Howard Homeowner needs more space, a closet organizer company could attract him with space-making ideas. A home remodel and construction company could provide examples of home additions. While a Realtor® may share stories about the impact of a new home. Each of these approaches provides a potential answer to the prospect's problem of "how do I get more space."
Consideration
During the consideration stage, the prospect has clearly defined their problem or opportunity and is seeking a solution or answer that fits them. They may have chosen a direction and are researching the options that support their chosen direction.
Howard Homeowner may decide closet organizers aren't enough and research the possibilities and problems with building an addition. At this stage, buyers are seeking information with substance, and may be willing to provide minimal contact information, such as an email address, for content of substance. For Howard Homeowner, it's a checklist of things to know before adding an addition. Although you may have his email address, you don't really know who he is or what specific problem he is working to solve. Now that you've attracted a potential buyer, and have contact information, you need to nurture the relationship.
Decision
Your prospect is ready to act and contacts you. In the decision stage, prospects have decided on their solution strategy, method, or approach. By the time you know who your buyer is, you need to act.
This is typically where a consultative sales pro takes over from the marketing team. In the decision stage, Howard Homeowner is comparing your company or product to others. He is seeking value and validation of his decision to build an addition and hire you.
However, the work is not done. Research shows that six out of 10 B2B prospects end up making no decision at all. And while it typically takes between six and ten sales interactions to close a sale, most sales people give up after four tries. Your buyer is looking for expert advice and looking for references and case studies on how others have solved their problem.
Although your potential customer is more than halfway through the buyer's journey, you have an opportunity to engage and guide them to discovering your product (or service) is the best choice to meet their needs.
Resources and related links:
Explaining the Consumer Decision Making Process http://www.professionalacademy.com/blogs-and-advice/marketing-theories---explaining-the-consumer-decision-making-process
What is the buyers journey? https://blog.hubspot.com/sales/what-is-the-buyers-journey
B2B Purchase Decision Process http://heidicohen.com/2015-b2b-purchase-decision-process/
Inbound Marketing 101: Lead, Don't Push Your Prospects https://www.marketing-partners.com/conversations2/inbound-marketing-101-lead-don-t-push-your-prospects
In Marketing Like Gardening, You Reap What You Sow https://www.marketing-partners.com/conversations2/in-marketing-like-gardening-you-reap-what-you-sow