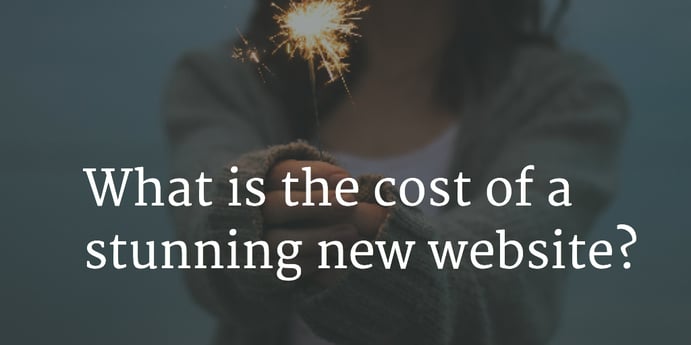 I wrote about this last in 2010 when unemployment was near ten percent and competition for work was fierce and cutthroat. And while a lot has changed in the past eight years, the components to consider when you want to create a successful new website for your business or non-profit have not.
Five components for a new website
Strategy
Content
Domain name (website address) and hosting
Design
Website build and coding
Strategy for your website
You need a plan and you need to set goals for you website. Do you want your website to be informational and educational? Do you plan to sell directly from your site (ecommerce)? How often will your site change? A restaurant may want to post daily specials but a business site may make changes less often. Does your website need to be mobile-first? (Hint: The majority of internet traffic comes from mobile devices today.)
It takes time to develop a strategy. And time is money. A good website, or any marketing activity, starts with good strategy. You need to understand your audience and deliver the content they are seeking in a usable way. You could review competitor sites or similar sites to see what works, and what doesn't. You need to research your audience segments, their preferences, and how they look for organizations like yours. The strategy, along with objectives, goals, style, and key elements are distilled into a creative brief.
For a website, the creative brief also should include a site plan. You may decide to develop the website creative brief yourself, or you may want to seek help, but it is an essential component for planning (and measuring the effectiveness of) a new website. Once you have your creative brief, you have a document that lets you compare costs for the other key components of your project implementation.
Website content
Content is the most important part of your site. It is the stories and images. It is what your audience is (hopefully) seeking. It helps your prospects define their problem and presents you as the solution. It is the headlines, captions, calls to action, and information about you and your company that propel prospects towards becoming customers.
Content is serious work. Every page and post needs several pieces of content. And content needs to be optimized for your audience and for keywords. Keywords are the foundation of search. The more specific your keyword phrase, sometimes called a long-tail keyword, the more likely you are to attract a qualified lead. If you run a bakery and a section on your website has the keyword phrase specialty cupcakes, you're competing with over 1,510,000 search results. But if your keyword phrase is gourmet German chocolate cupcakes in Williston Vt, you've jumped to the top of the search results page. Knowing the language your audience uses and reflecting that in your content will help improve your website traffic.
It takes time to develop and test content. And content is always evolving. After your website is "completed" you will still need to review the visitor metrics and fine-tune your content. You should plan to be adding or updating content at least weekly through blogging, a newsroom, or image gallery.
You may already have existing website content that can be repurposed, you may want a different tone or expanded content areas, or you may decide a combination of existing and new content will best meet your goals — but do not underestimate the effort necessary for your staff or your website firm to detail the who-how-when-what of the content for your new website.
Domain name (website address) and hosting
Domain names are increasingly important as part of your brand. Good domain names are hard to get these days, so hopefully you have yours already. If you are searching, adding descriptive words like your town or state may help. The costs for domain names and website hosting are perhaps the easiest to determine. If you have a small site and no ecommerce you can use an inexpensive shared host server and keep your costs to below $200 per year. If you are planning an active and large site with transactions you may need a dedicated host, which can run from a few hundred to several thousand dollars per year. New for 2018, hosting should include an SSL certificate or you will need to purchase an SSL certificate and apply it separately. Google now requires SSL for any website that has a form – and you will want forms for everything from Contact Us, to Subscribe to Our Newsletter, or Sign Our Petition.
Website design
The website design and build can be a major expense, and these two costs often go hand-in-hand. Design needs to include not only the user experience on each type of device, but also the limits of the build environment and hosting capabilities. (Some services specialize in hosting and managing only certain types of sites, for example, a WordPress or Drupal site.) Design can be scaled down to using a predefined theme or template or ramped up to completely custom page layout and interactions.
You will want to pay careful attention to colors that not only complement your brand, but also evoke the emotional response you want from your prospects. You will want typefaces that meet the expectations of your audience. The shape of letters and words can be meaningful.
Is your audience older or younger? Does your design reflect that? Is your prime audience more likely to visit your website using mobile devices or computers? Your strategy may require design for mobile first. Your website design should show you how your website will appear on different types of devices.
Do you need a website that is accessible for people with disabilities? Is accessibility a goal because you want to be inclusive of everyone in your audience, or is it a legal requirement for you? The answer will affect your costs because not all website designers (or website developers/coders) are familiar with accessibility requirements.
When you think about user interactions with your site you also need to know how it will be coded. Custom coding, applications, and databases can quickly add costs to your website project. A designer that works with your build and coding development team and understands the constraints of off-the-shelf software can cost effectively design a stunning website.
Website build and coding
I'll go out on a limb right now and say that every website, no matter how small, takes at least 40 hours to build and code. Sure, you can go to the "do it yourself" services and have a site up in minutes or a few hours. But, if you want a truly useful site that reflects your company and brand (or non-profit and service), it takes time.
Did your website build implement the core elements of your design? The website building process can be one of compromises. Does a small design detail require custom coding? A major consideration is designing for mobile and tablet devices. Responsive sites will work on most devices but are often designed for computers first and then adapted to other devices. Depending on your audience(s), you may need to design mobile first or possibly serve separate designs by device type.
An important consideration is how your website interacts with other businesses processes. If your site handles transactions, the costs will be higher to develop it. If those transactions need to interface with your business systems software (accounting, inventory control, shipping), then be prepared to pay a significantly higher fee. Note that "transactions" include paid tickets for events, paid memberships, online donations, and other payments made to small businesses and nonprofits that are often forgotten because they do not fit the classic ecommerce concept of online product sales.
Costs based on requirements
The cost to build a new company website will vary widely based on your site goals, content, and functional needs. Search for "website cost calculator" and you will see there are a number of free calculators and even companies around the world that will promise to build you a free site if you pay their monthly service fees. But we all know nothing is free.
Unless you've done your planning, it can be difficult to assess which bids are unrealistically low, which are outrageously inflated and which are in the right ballpark.
The best way to determine cost is to outline the requirements or scope of work for your website project and then contact firms to get estimates based on your requirements. If your requirements are well defined, you may want to prepare a formal Request for Proposal (RFP) to ensure you can compare estimates on an apple-to-apple basis. The more initial planning you are able to do, the more accurate your website development bids will be.
You should also consider ongoing website maintenance costs after the initial website development costs. For example, an opensource WordPress site typically takes between six and eight hours a month to keep the software up to date so your website is secure. There are frequent security updates to the WordPress software, themes, and plug-ins, so if you do not have that capacity on staff, you will need to budget for that service.
Another part of your cost may be integrating other digital tools you need to make your website a complete digital portal. Do you use Constant Contact or MailChimp for your email newsletters? How about Network for Good or DonorPerfect for online donations? For membership associations, you may be paying separately for Salsa Labs or Wild Apricot. Paying for services like marketing automation, group email, CRM (customer relationship management), and transactions on an a la carte basis versus a bundled package should be considered.
Based on common needs for Vermont small-to-midsize businesses and nonprofits, we can share some realistic budget ranges. A small campaign website could cost as little as $2,000. If you are seeking some customized design for a responsive website using a popular open source content management system like Joomla, Drupal and WordPress, then you will want to budget $5,000 to $10,000, with $7,500 an accepted industry norm. For a website plus ongoing management, security and support for an active inbound marketing solution, $5,000 a month is a common starting point for services.
So what is the cost of a stunning new website?
It depends — on you.
Related Posts
Conquer your website accessibility and inclusion challenge
How to optimize your website for mobile
The case for mobile-first design