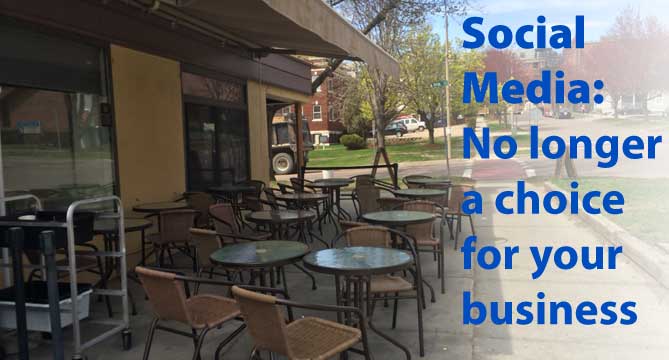 Over the course of my internship at Marketing Partners, I've learned about a variety of different topics and acquired some important real-world skills. Working with a mix of clients has exposed me to all sorts of different industries, but here's one of my biggest takeaways that applies to all of them – social media isn't a choice for your business anymore – and, as we've written about before, using social media for business is very different from personal social media use.
Why social media is no longer a choice for your business
Take it from someone who, contrary to the typical millennial stereotype, used to put up a fair amount of resistance to new social media trends, only to have it crumble against a combination of curiosity and peer pressure. Regardless of how you choose to use social media in your personal life however, the reality is that social media use has become a necessity for your business – your competition is using it, your customers are checking it, and it is a low-cost way to directly interact with your audience.
With all this in mind, let me share with you four basic strategies I have found to be helpful, and have proven to be successful.
Starting from scratch
After delving into projects involving a few different Marketing Partners clients, I quickly realized that every industry has a social media presence. Yes – every single one. Whether it's a broad category like sustainable net zero energy buildings, or a narrower one like local cheese production, somebody out there (including your competitor) has established a presence in your industry. If you haven't, then you're already falling behind. Don't wait another day to get started. Be prepared to set up accounts for the Big 3 – Facebook, Twitter, and LinkedIn.
Learn about your options, and how they are different
Social media platforms are growing and evolving, and it is worth your while to learn the ins and outs of each of them, and the most appropriate ways to use them. For example, your Facebook and Twitter accounts might use a different, more casual, tone than the one you use on LinkedIn. Maybe it makes sense for your business to use Twitter and LinkedIn, but not Facebook. Define the target audience, and cater your social media presence to fit their needs and yours. Each platform is different, and taking a look at the details will make your life easier in the long run.
What does your audience care about?
Familiarize yourself with active conversations that are relevant to your business. Which hashtags about your industry are being widely used on Twitter? Who is your target audience and what do they care about? The goal is to get clicks and shares. One way to do this is to share interesting pictures or infographics. Another way is to research hashtags and incorporate popular ones into your tweets, ensuring your company's voice gets heard. This strategy is all about paying attention and recognizing opportunities that will increase your audience base.
Social media is about engagement – not just presence
Presence on social media is just the first, most basic step. It's not enough to just have a company presence or post updates to your company page. The next step is to engage – not just with your audience but also with potential partners and your larger community. Take the time to read through comments left on your Facebook and LinkedIn pages, or mentions on Twitter. Engage in conversations and respond to customer feedback – both positive and negative. Your audience will appreciate the human element behind your business.
These are just a few things to keep in mind when it comes to social media practices. Remember, times have changed – social media is no longer just a creative outlet or an unconventional marketing strategy. Master the basics and use it to its full potential for your business.
Resources
Marketing Partners blog, "How to Make the Most of Your Time on Social Media"
HootSuite Blog, "9 B2B Social Media Marketing Tips for Social Media Managers"
-------
Annesha Bhattacharya is a senior at Middlebury College majoring in political science with a focus on international relations.