Have you been there? You start to notice many of your conversations get derailed because your basic language and labels are triggering a radically different frame for other people. At first you resist the implications, thinking all that's needed is more education or better communication. Then, if you are listening well, you come to realize you're spending more time defending 'your' term than you are applying it. Your language has become counter-productive: It is interfering with what you're trying to communicate. I am there now. I have concluded 'social marketing,' as I know it, is dead.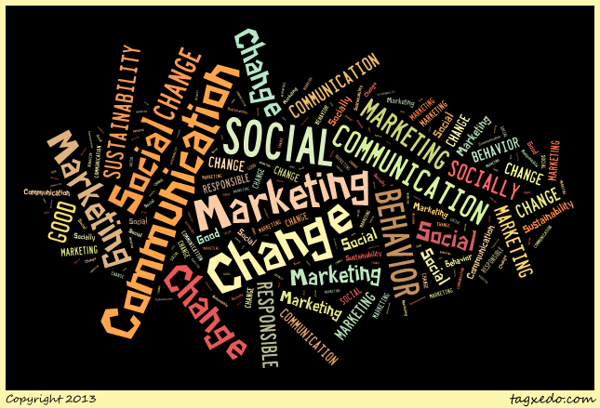 It is, in fact, past time to rename, reframe and rebrand social marketing. This is not a call for the redefinition and renaming of a field changing in response to its environment, which is common in academic circles. This is unusual — a call to label differently a thriving and proven framework for theory and practice. How did it happen?
The Briefest History of Social Marketing
The social marketing frame grew out of the differences between marketing for commercial benefit (profit) and marketing for social benefit. It was first explored in a G.D. Wiebe's 1951 discussion of the question: ""Why can't you sell brotherhood and rational thinking like you can sell soap?"
The term social marketing was coined in 1975 by Philip Kotler, and was gradually refined over the years until it reached the classic and commonly accepted definition that can be found today on Britain's National Social Marketing Centre site:
"Social Marketing is an approach used to develop activities aimed at changing or maintaining people's behaviour for their benefit. Whereas marketing in the commercial world ultimately seeks to influence consumer behaviour for profit, social marketing encourages behaviours that provide benefit for individuals and society as a whole."
Academic journals sprang up, research and best practices for effective social marketing evolved, and in the field of public health and other 'social good' sectors, respected practitioners like Nedra Weinrich and Craig LeFebvre emerged. The discipline was solidly established by 1982 when I left the nonprofit sector to start my business.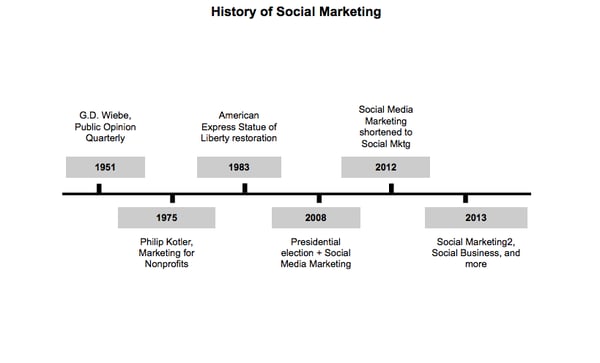 Confusion and Challenges
Since then there have been periodic confusions and challenges to the classic social marketing frame. Cause marketing presented one of the earliest. The 1983 American Express Statue of Liberty restoration campaign, where a for-profit business partnered with a non-profit organization for mutual benefit, is still used in university classrooms today as a classic example of cause marketing. Social marketers and many large corporations recognized the distinction between the primary motivation driving the two distinct approaches, but there were many examples of trade publications, the popular press and small businesses confusing social marketing and cause marketing.
As time went by various terms and techniques rose in popularity, created some confusion with social marketing temporarily, and then were classified as separate approaches based on the primary purpose of the effort:
(Nancy Lee and Philip Kotler's "Social Marketing: Influencing Behaviors for Good" does a good job of chronicling the history of the various challenges to the basic social marketing frame.)
But by 2009 there was an explosion of social media channels, and the resulting rise in the terms social media marketing and later what I will refer to as 'social marketing2' only increased the confusion.
The Debate
As social media marketing rose in popularity, it became more and more common for the term to be abbreviated as social marketing. Many of us resisted and clarified the appropriate term every chance we got.
There are also those who began to refer to communications from social enterprises and customer-attentive 'social businesses' as social marketing.
By June 2013 there was an open debate about whether or not the term 'social marketing' had any value in its traditional sense.
Why Care?
Marketers know what to do when a brand name has been damaged, but that's not the case here. What do you do when your 'brand' name triggers an all-but-irrelevant frame? How do you reframe and rebrand to communicate what is different about this approach that uses commercial marketing techniques for social good?
To me, the critical issues are purpose and trust. Although marketing strategies and tactics evolve over time, we live in a culture of increasing inequality, corporate influence, green washing, excess consumerism, and media saturation. Can the public be expected to trust a profit-driven corporation's behavior change program, or a nonprofit's fundraising campaign, in the same way you do a program designed and implemented solely for the social good?
A Few Options
The social marketing framework needs to be labeled differently — renamed —now. Here are a few options for further discussion.
Social Good Marketing*
Social Change Marketing
Behavior Change Communication
Change Marketing
Change Communications
Socially Responsible Marketing

Public Interest Communication*
* These are the current frontrunners for me.
Your thoughts? Please connect with me to share a comment.
Resources
The great social marketing dilemma (interacter)
G.D. Wiebe, Public Opinion Quarterly, Winter 1951-1952
Social Marketing: Influencing Behaviors for Good (Lee and Kotler), 4th edition