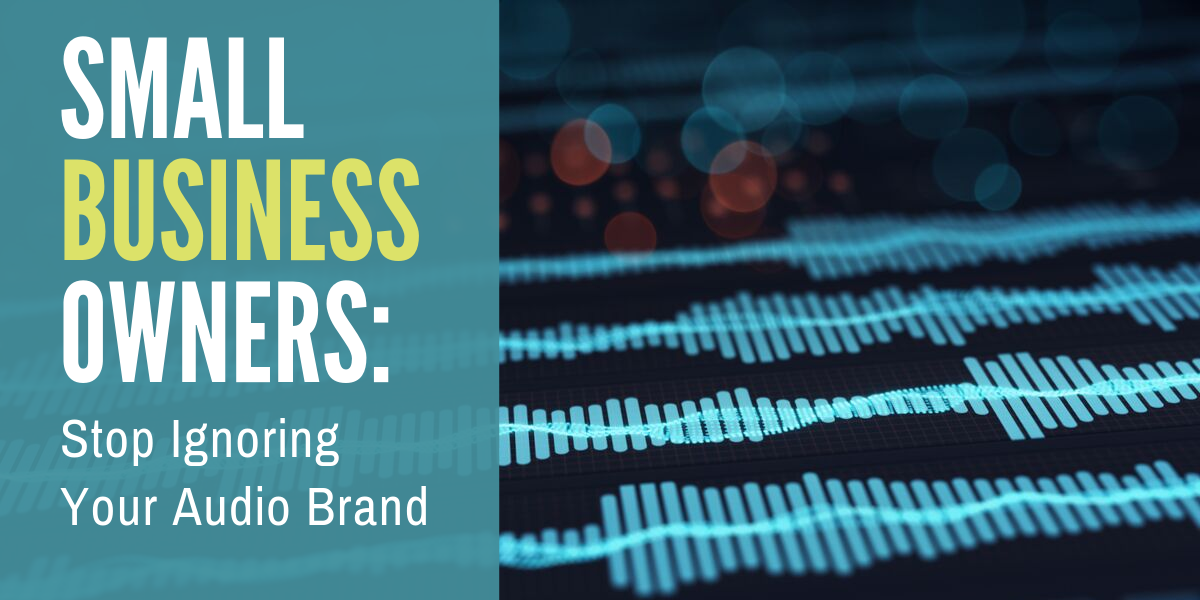 When you think branding, what comes to mind? Logos, colors, the name of your company, your company tagline — but how about sound or audio? As the popularity of Alexa and Google Home help drive the increasing use of voice and audio streaming, sonic branding is becoming more important. It's an often overlooked part of your business identity and an opportunity to reinforce and extend your brand.
What is audio branding?
You know it when you hear it. If a sound, song, or jingle reminds you of a distinct brand, that means their audio branding is working. McDonald's has one of the most well known business audio identities. When you hear their iconic "I'm lovin' it" sonic tagline, there's no doubt that what you just saw or listened to was from McDonald's.
Having a distinct sound can be one of the best ways to cut through the constant barrage of information that we are subjected to on a daily basis in this day and age. Sound is something that can catch people's attention even when their eyes might be distracted by something else. While many of the bigger brands use original audio jingles to brand their content, that's not always reasonable for a small business owner. There's plenty of branding to worry about for a small business owner without having to think about creating a jingle, paying for studio time, and the cost of production. But audio branding goes beyond jingles.
Here's how the Audio Branding Academy describes audio branding -
Audio Branding describes the process of brand development and brand management by use of audible elements within the framework of brand communication. It is part of multi-sensory brand communication and holistic brand design. Audio Branding aims at building solidly a brand sound that represents the identity and values of a brand in a distinctive manner. The audio logo, branded functional sounds, brand music or the brand voice are characteristic elements of Audio Branding.
Where to use audio branding
"I don't plan on using TV or radio ads, should I even bother with audio branding?"
The short answer? Yes! There is much more to audio branding than the commercials you see on TV or hear over the radio. Audio stimulation is very much a part of our day-to-day lives and we are influenced by all that we hear, even if we don't realize it.
background music for a video on your website
uploaded videos on your social media and live streams
podcasts
hold music on your phone systems
All of these are tools that can be used to build your audio brand. And these are just a few. Starbucks is a great example of how-to use audio branding outside of TV and radio. Each cafe is provided music and playlists that are curated to be recognizable and comforting to make their customers get the sense of a coffeehouse. They're creating a "branded moment" that connects with people as soon as someone walks into one of their shops.
"Music has played a pivotal role in our stores for over 40 years and we have been at the forefront of how to integrate it into a retail environment."
- Howard Schultz, Chairman and CEO, Starbucks
Something simple like this helps connect your brand with a feeling that will continue to resonate with your audience, even if only subconsciously.
Setting the Tone
To create a strong audio brand, first determine what kind of tone or ambience you want your company to be associated with. Your tone is determined by what kind of product or service you provide, who your audience is, and what you want people to feel when they think of your brand, among other things. A good audio brand takes into account all of these things.
Knowing what kind of tone you want to portray is the foundation for a solid audio brand. Having the wrong tone can cause confusion and could even lead to lost customers. Tone influences a lot of the psychological effects that audio has on us too.
Tone also encompasses things like voice and word choice. Would a grizzly, male voice do well selling to the demographic of high-end makeup brands? Probably not. Neither would the use of casual slang in the dialogue. Keeping these kinds of things in mind and maintaining consistency are part of what can make or break an audio brand.
Consistency, Consistency, Consistency!
Speaking of consistency, as is the case with most branding, consistency is the key to building up equity in your audio brand. In order to get people to equate your business with a certain sound, they need to be able to hear it consistently through all of your businesses audio avenues. If they're hearing gentle music over the speakers, are greeted with top-40 pop on your website, and hear elevator music on your radio ads, it leaves no impression at best, and creates confusion and diverts customers at worst.
What you want your audio branding to do for you is to create better brand recall and evoke specific emotions tied to your company.
"...our senses are linked to the limbic part of the brain that is responsible for emotion, memories and feelings. Brands that stimulate our senses evoke emotion, creating a deeper, more resonant brand experience." - Steven Kritzman, AdWeek
It can even increase customer loyalty and convey the purpose or value to new customers. The importance of good audio branding is gaining momentum in the marketing world, making it even more important to start building equity in your own sooner than later.
Start Branding! (And Don't Stop)
Whether it's the misperception of what audio branding is, the idea that they lack the resources, or something else entirely, audio branding doesn't tend to fall high on the scale of priorities for a busy small business owner.
Admittedly, not curating an audio brand won't have major debilitating effects on your small business. But having a great audio brand can be a huge benefit and have a great impact. It's something that, when given the proper attention, can become a big asset in building your overall brand.
If you're interested in reading more about audio branding and the effects on customers here are two studies done to research the effectiveness of audio branding among larger companies.
Reutlingen University ESB Business School Study (2019)
Katz Marketing Solutions Sonic Brand Study (2012)
Read more content about branding from Marketing Partners: