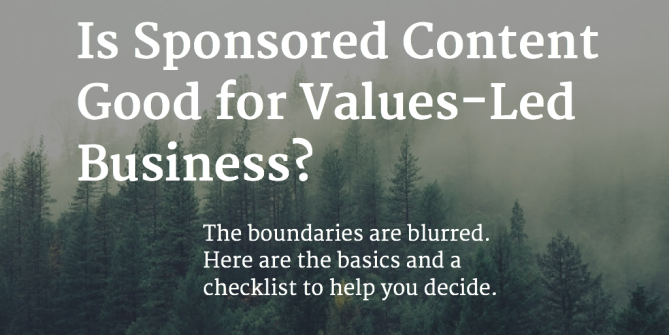 Are you thinking like I'm thinking that it is getting murky out there? My fog meter is registering an increase in befuddling language about sponsored content (aka native advertising), which makes it unnecessarily difficult to evaluate your options. Major traditional publishers such as The New York Times, the Atlantic, Washington Post, the Wall Street Journal and the New Yorker have joined Business Insider and Forbes so now each offers sponsored content in some form. Seems like it is time to revisit the basics and the latest guidelines for paid media for values-led businesses.
Confusing language (and response) for sponsored content
Have you seen or heard any of these terms lately?
Native advertising
Branded content
Promoted posts
Affiliate marketing
Paid editorial content
Social media influencer marketing
Multiple studies have found twenty or more terms are commonly used to refer to sponsored articles or posts, and that most readers do not agree on what the terms mean. Even more worrisome for values-led businesses, Contently reported:
Two-thirds of readers have felt deceived upon realizing that an article or video was sponsored by a brand.

54 percent of readers don't trust sponsored content.

59 percent of readers believe a news site loses credibility if it runs articles sponsored by a brand.

As education level increases, so does mistrust of sponsored content.
Sponsored messages in the news
One Ad Age headline is direct about what's driving the trend: Media Companies Strike Gold With Sponsored Content. And because it blurs the lines between editorial content and advertising, sponsored content offers businesses a new way to influence customers in trusted environments. Some companies report significantly higher conversions from online sponsored content than from traditional digital advertising, particularly in contrast to banner ads.
eMarketer reported that "US native ad spending would rise by 35.4% in 2015, to $10.7 billion. By 2018, this was expected to nearly double, hitting $21.0 billion. And in a Q4 2014 study by the Association of National Advertisers (ANA), 66% of US client-side marketers planned to increase their native ad budgets in 2015, vs. 55% who had done so in 2014."
A few visible examples of the trend:
The Atlantic pulled its controversial Scientology native ad within hours of publication. The incident led to new guidelines on sponsored content at the magazine.
The New York Times has widely credited a significant portion of its successful increase in 2014 digital advertising revenues to its native advertising unit. "The first such Paid Post, a collection of freelanced stories from Dell that launched in January, was conservative in both labeling and content." In November 2014, the first so-called native ad appeared in the print edition.
Forbes put a native ad for Fidelity on its cover March 2, 2015. Notably, this is in apparent conflict with the American Society of Magazine Editors' editorial guidelines, including the unambiguous directive "Don't Print Ads on Covers."
The paid-owned-earned media framework (POEM)
Whatever the language used to describe your options, consider that sponsored content is, by definition, paid media. While integrating paid, owned and earned media is widely recognized as the most effective communications strategy, you want to be careful not to conflate sponsored content with earned media. The risk of sponsored content goes beyond a legal concern.
Many values-led businesses are reluctant marketers who are opposed to advertising and may be drawn to the absence of direct product or sales pitch in paid editorial content that is informative or entertaining. But much is at stake. While customer trust is arguably essential for any business to survive, it has particular significance for values-based organizations and those seeking social change.
Guidelines and regulations
Current practices and guidelines have not kept pace as the use of sponsored content has exploded. Four resources are helpful if you are trying to think through if, when, where and how sponsored content might work for you.
The US Federal Trade Commission's (FTC) already has guidelines for endorsements, sponsorships, paid search, and online ads, but it has not yet issued guidelines on disclosure requirements, language and graphic separation for sponsored content to make sure consumers aren't confused and know an ad when they see one.
The Interactive Advertising Bureau (IAB) published an initial 'playbook', which includes definitions for six different types of native advertising and sponsored content.
The American Society of Magazine Editors updated its guidelines for print and digital in 2014, including recommendations for specific labeling language to aid transparency.
The principles outlined in the Code of Ethics developed by the Word of Mouth Marketing Association (WOMMA), remain relevant and informative, although developed many years ago now.
Checklist for deciding if sponsored content is good for values-led business
I suggest using this simple checklist of questions to help you decide if, when, where and how sponsored content might work for you, in addition to the core resources cited above.
Does the media environment reflect your values and mission, and will your content be highly relevant to the media outlet's editorial and its readers? If not, there's no reason to risk a loss of trust, and you might as well stick to straight, clearly identified advertising.
How does the media outlet label sponsored content? Will your role as a sponsor be clear? For example, the Guardian adds this statement to articles in its sponsored sections. "The values-led business hub is funded by SC Johnson. All content is editorially independent except for pieces labelled "brought to you by". Find out more here." -- The Guardian
Which paid media option best complements your audience's expectations and your overall strategy? For example, Politico offers a suite of sponsored content options. Your branded infographic can provide valuable information but is unlikely to feel misleading in the way a sponsored article might.
Could it possibly feel misleading or sneaky to readers (or your customers)? Don't do it.
Resources
American Society of Magazine Editors - May 2014 update
Contently – Study: Sponsored Content has a Trust Problem
FTC (pdf): Federal Trade Commission –2013 supplement, How to Make Effective Disclosures in Digital Advertising
2009, FTC's 16 CFR, Part 255: "Guides Concerning the Use of Endorsements and Testimonials in Advertising."
Interactive Advertising Bureau (IAB)– Native Advertising Playbook [pdf]
Word of Mouth Marketing Association – Ethics
The Atlantic publishes then pulls sponsored content from Church of Scientology - Poynter
Forbes Puts Native Ad On Cover - MediaPost
Inside T Brand Studio, The New York Times' native ad unit - DigiDay
————
DISCLAIMER: I am not a lawyer, and my suggestions are based on my experience and are not a substitute for legal advice from a licensed legal professional.
————