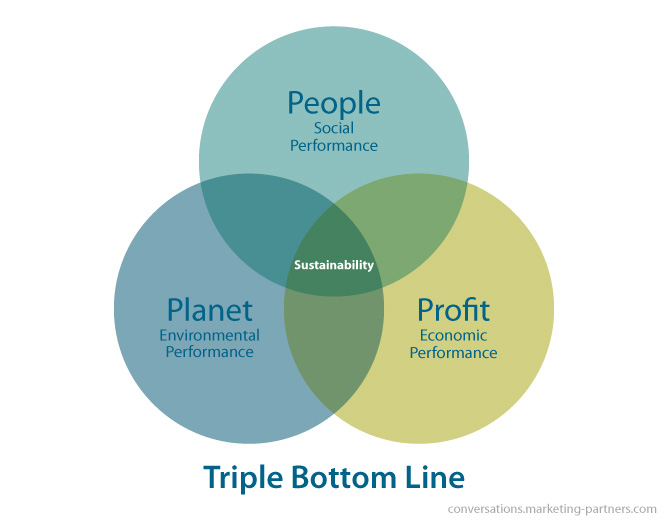 "Skills can be taught; values cannot." That old saying rings true, but growing your own skilled marketers takes lots of time, energy and money. That's why I, like most small and midsize business owners (SMBs), look to bring in skilled talent when the workload suddenly swells. Nowhere is this more likely then when you're seeking an in-demand skill like inbound marketing. It's a challenge to add versatile inbound skills to a triple bottom line values match, so I'm delighted by a new option. Whether you're hiring or you simply want to offer valuable choices for your existing marketing team and interns, here's how you can grow your own triple bottom line marketers.
Triple bottom line values
Separating the culture match from the skills match saves time for everyone involved when you're hiring an employee or selecting an intern for a semester's academic credit. A candidate whose resume doesn't show an awareness of sustainability principles, the people-planet-profit triple bottom line approach to business, or some demonstrated commitment to the common good just is not going to fit with the rest of your team.
I confess that one of the delights of the past few years has been a surge in the number of interns who seek out our firm because they are specifically looking for a mission-driven company and the opportunity to help advance positive social change. Many of these young people have already led or volunteered for a wide range of nonprofit and social justice efforts, which makes the mission match screening much easier.
Core marketing skills and training opportunities
Your new hire will be expected to add specific skill sets to a functioning team, although there may be one or more areas where a deeper understanding of what their co-workers do would be helpful. On the other hand, an internship at a small agency like ours is intended:
"… to provide a broad understanding of the functional responsibilities within an integrated marketing communication firm's team, as well as an introduction to day-to-day firm operations and professional-level technical resources and tools."
At Marketing Partners, a matrix of experiences and project tasks ensures each intern gets a chance to work with various team members as well as exposure to a range of core marketing roles and tools before focusing on a start-to-finish project related to their academic major or interests.
Video tutorials and self-guided training modules are essential for such a learning system to work well so experienced staff can help with higher-level questions and support rather than the basic how-to of various software tools. It's frustrating and shortsighted when an essential professional tool makes training a new team member — nevertheless an intern—into a major hassle or costly ordeal.
For many years now we have offered our team members and interns the opportunity to enroll in "Hootsuite University" to earn a Hootsuite Social Media certification badge, which is only available because we are Hootsuite Enterprise-level customers. For staff members, we also offer access to Lynda.com for specialized training programs in addition to a small annual tuition reimbursement.
Adding inbound marketing skills
That's why I am delighted by HubSpot's online inbound marketing training and certification program, which is free and open to everyone. HubSpot is widely recognized for the quality of its inbound marketing resources, but now many more people can benefit from learning these fundamentals. The opportunity to learn about focusing on your audience, building personas, and crafting an effective journey from awareness to raving fan is invaluable. And a new staff member or an intern who works to become inbound certified while with us not only demonstrates their skill level to our firm, but can also use the certification badge on their website bio and LinkedIn profile to show others.
Many of our interns, and all of our staff, advance to earn their certification on the HubSpot Marketing Software platform. (Note that unlike the introductory inbound certification, you must be affiliated with a HubSpot Certified Agency Partner, like Marketing Partners, to participate in the HubSpot Marketing Software certification training.)
How to grow your own triple bottom line marketers?
Enhance what you're already doing by encouraging your team, interns and friends to participate in HubSpot's free, self-guided Inbound Marketing training and certification. You (and they) will be glad you did.