These days, when new clients come to us looking for strategic marketing communication plans, inevitably one of their first questions is about incorporating social media. Don't we have to have it? Won't it increase our customer base and revenue and help us leverage our small marketing budget? On the flip side, we find clients coming to us with few marketing tools in place, yet they will already have Facebook and Twitter accounts set up. Likely to be missing in either situation will be two important things: a social media strategy and an internal social media policy (we'll save the latter for another post).
To Be in Social Media, or Not to be? Even today, the answer still is: It depends. First, are we talking B2B or B2C? Exactly where are your customers? It's often not really a question of whether or not social media is the best avenue for your company, but which of the media channels or networks is most appropriate. For instance, you may reap more reward for having a comprehensive company page on LinkedIn versus a page on Facebook. This all depends on your customer base and the other strategies and tools in your marketing plan.
One Industry Example. One industry that appears to be way ahead of the curve on integrating social media into marketing plans is the travel industry, and in particular, hotels. A new white paper from the Hospitality Sales and Marketing Association International (HSMAI) and online marketing services company VIZERGY, "Best Practices for Maximizing Your Hotel's Online Revenue and ROI," indicates that the travel industry allocates more of their marketing budget toward digital/online than any other industry. HSMAI and VIZERGY conducted an online survey in April 2010 "to identify and understand how hotel marketing professionals are using the Internet to market their hotels and increase their ROI." A total of 381 respondents were surveyed with two additional participants interviewed by telephone on best practices. Interestingly enough, no confidence level, or sampling error information is provided in the white paper, which can be downloaded for free from the VIZERGY website.
The survey asked questions about website design and functionality, Internet marketing, and measurement and analytics. The results from the Internet Marketing section provided new, more detailed insight into the inner workings of the travel industry's approach to marketing. When asked if they had a social media strategy, 60% answered YES. This seems to indicate that the remaining 40% are operating without a social media strategy, but without direct access to the survey questions this figure could be misconstrued.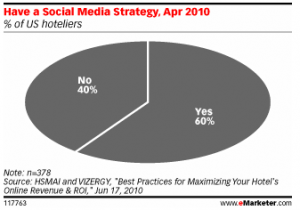 Across Industries. However, according to a multi-industry May 2010 study by Digital Brand Expressions and reported by eMarketer, 52% of US Companies are "planning for ongoing monitoring of brand reputation in the social media environment" but are operating with an existing plan in place." The 40% of hoteliers is lower than this more general study suggests but is consistent with the trends we see in the business sector. Considering 54% of hoteliers spend 20% or more of their marketing dollars on online marketing and 59% are using social media as one of their marketing initiatives, it is somewhat surprising that as many as 40% do not have a social media strategy in place.
So what can we take away from these two studies? Moving forward with social media without a formal strategy or plan in place can be risky because a plan helps you take into consideration the number of employee hours required to monitor social media sites, and how to respond to guest or customer reviews that may appear, both positive and negative. Though the majority of hoteliers, 73%, are utilizing an in-house team to manage and monitor their Internet marketing strategies, many in other industries seem to have learned the hard way this is a major commitment not to be undertaken lightly.
Final thoughts. 1. Evaluate your customer base and research their information seeking and decision-making habits. 2. If your budget allows, consult with an agency that has extensive experience developing and managing social media plans. 3. Try not to move forward without a social media plan or strategy in place, if only on the proverbial napkin, because sometimes this can cause more harm than good. 4. Don't feel as if it's all or nothing. It may be wiser to authentically engage in one social media network well.
Related articles by Zemanta