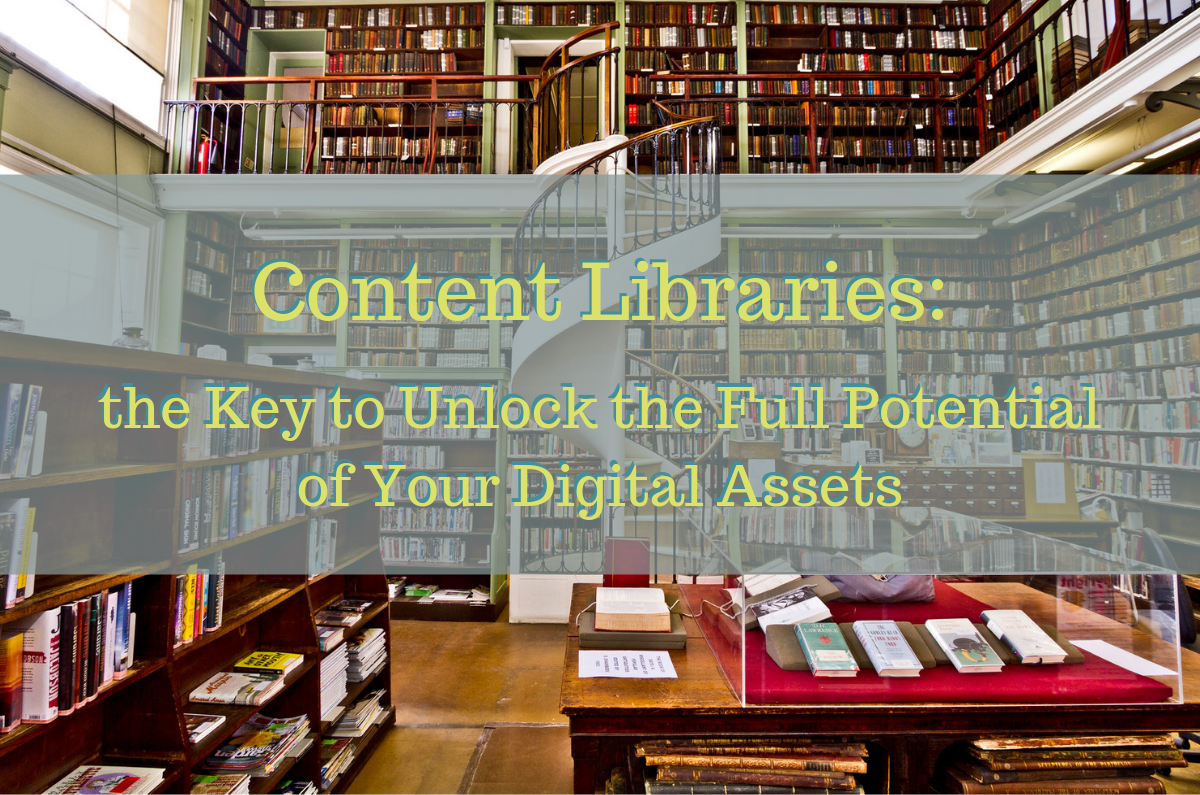 Images, videos, sound bites, and other media are great ways to cut through the clutter online for small businesses or nonprofits. But a common mishap we often see with our clients is that all of those assets are only stored on social media where they were first used. On the surface, it may not seem like that big of a deal, but in reality, you're severely restricting your ability to repurpose that content in the future. You never know when a certain photo could be useful for another medium or campaign — and your mantra is to make the most of your limited resources!
What is a content library?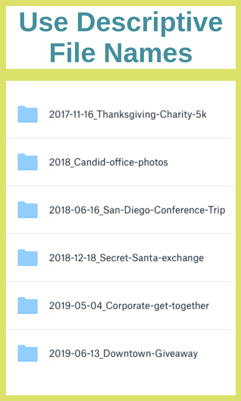 Just as a regular library creates a system and organization for books, a content library does exactly that for all of your assets. They are especially great for files that need to be shared, or will be reused, like your digital assets, here's why:
A centralized hub - Anyone on your team with assets that they think might be beneficial now, or in the future, can store their files here.
Increased efficiency of your team - No need to spend time fruitlessly searching through your past social media posts or tracking down specific people for a specific photo.
To get the most out of your content library, create an organizational system for your files and folders, and make sure everyone sticks to it. Simply knowing how the files will be named and having descriptive names for your folders will make things even more efficient for everyone using the content library. Stanford University offers these best practices, tools and tips for how to name (or rename) your files. Getting these things down will be the start of what's being called Digital Asset Management (DAM).
"But all my photos are already organized on Facebook"
When you upload a photo or video to social media, do you often find yourself deleting the them off of your phone or computer? If you do, you're not alone. It's a habit that many of us have probably gotten into for one reason or another; don't see a need to store a duplicate, storage is running low on your phone, or any number of other reasons you can use to justify it. But no matter how you justify it, it's a bad habit, and one you should actively try to break. This is especially true for small businesses or nonprofits.
When a photo or video is uploaded to social media, it loses its original quality. If you choose to download the picture later, you'll be downloading the compressed version of the photo at a lower resolution, not the original file that you uploaded. This is especially true of photos you've taken using a camera, rather than your phone. If you want to use those photos in a newspaper, magazine, or even use it on a flyer, the downloaded photo is most likely not going to be the high-quality image that's necessary for it to print well. So when you upload to social media, be sure to send a copy to your content library too!
Do you agree to these Terms of Service?
When was the last time you read through the Terms of Service for Facebook? You should keep in mind that social media companies, like Facebook, retain the right to use anything you've uploaded or posted. Here are some of the "highlights" of the Facebook user agreement describing their rights as far as the content you've shared with them:
"To provide our services, though, we need you to give us some legal permissions to use that content. Specifically, when you share, post, or upload content that is covered by intellectual property rights (like photos or videos) on or in connection with our Products, you grant us a non-exclusive, transferable, sub-licensable, royalty-free, and worldwide license to host, use, distribute, modify, run, copy, publicly perform or display, translate, and create derivative works of your content (consistent with your privacy and application settings)."
By uploading your assets to Facebook you're automatically opting into their Terms of Service. You can read more details regarding photos, videos, and other assets here in section 3-3 of Facebook's Terms of Service.
Where can you build your content library?
These options are some of the most popular programs used to help maintain a content library. They will feel familiar to you, you've probably used at least one of them in some other capacity before! While at their core, they all offer a similar service, each one offers different "perks" like access to specific programs or extra security for your files. Even if you already use one of these programs, it's good to review the perks and see if you're getting the best features for your money. No matter what you pick, be sure you're making the choice that will best suit your business needs.

Starts at: $6/month per user - 30GB of storage (See more details)
Many people are familiar with Google Drive. The amount of storage you get with the Google Drive doesn't give you much room to be storing high quality images or videos. Upgrading to the G Suite is worth it if the Google apps are heavily used by everyone in the organization or company.

Starts at: $5/month per user - 1TB of storage (See more details)
This is a comparable alternative to Google Drive if your organization or company primarily uses Microsoft apps and programs. OneDrive gives you access to online-only versions of their core products and lets you share easily across your connected network.





Starts at: $0.99/month per user - 50GB of storage (See more details)
iCloud is another program that falls into the same vein as the two mentioned above. If you and your business are heavy Apple users, it's very easy to share files within your group. It's also streamlined to make uploading of your assets as easy as possible. iCloud also provides apps, like Google and Microsoft, that can be used collaboratively with your team.

Starts at: $12.50/month per user - 3TB of storage (See more details)
Dropbox is the only service that doesn't provide added apps or programs. It's a one trick pony, with large storage space and tight security, but it does that one trick, very well. It comes at a premiere cost, starting much higher than most other services but offers more storage. It's generally a better option if you deal with a lot of very large digital files on a regular basis.
Weigh your options
While it's currently the most popular, online, cloud based storage isn't the only answer to a content library. If you have a computer network that's shared by the office, it could be hosted on one of your computers or an external drive. It is a less costly solution, but you're taking on the risk of losing your data if something goes wrong with your computer or drive and it's not as convenient for sharing access. There are also other services that include a content library function as part of the package, like HubSpot, or Hootsuite at the enterprise level. If you're already paying for other services, check to see if they have a content library included or available as an add on
Each business has its own unique needs, so weigh the pros and cons when you're making your choice. But no matter what you choose, establishing and maintaining your content library will be the key to good Digital Asset Management, using your digital assets efficiently, and to their full potential.
Read more about content libraries: