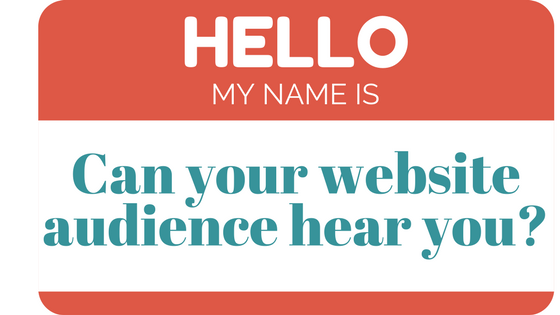 You know your business or organization needs a website. And, you probably have one (or maybe more than one). But does your website reach your audience? So now you're probably thinking, "But, we have more than one audience." Your website needs to speak to all of them.
Who do you want to talk to? Define your audience.
You have to know who you want to engage to put the best content in the right places. For effective communications, we start be developing personas. A persona is a fictional description of your average customers, product users, nonprofit donors, or decision makers. Your organization may have only one persona, or many.
Example: Naturmetic Skincare (an award winning website), has clearly defined their audience and developed messages to motivate action, in this case, to make a purchase. Their audience is clearly women who value natural skin care products. And, although the entire site seems dedicated to that one audience, they do include links for media inquires and retailer contact information.
Example: Coleman Outdoor Equipment has a diversity of products for the outdoor enthusiast. From serious camping to a picnic in the park. Whoever you are, if you enjoy the outdoors you can find yourself on the front page of their website.
It is important your prime personas – those who you most want to engage on your website – can recognize themselves and find information relevant to them. Understanding what motivates your audience will help you build effective content that engages.
One common mistake is targeting the wrong group or persona with your website. If I were a commercial baker of specialty cookies sold through distributors to convenience stores, my buyers would be the distributors. But, my prime audience is likely the consumer buying the cookies and/or the store manger that orders cookies to sell. Neither of those folks purchases from the bakery, but they are the prime audiences.
How do they find themselves on your website?
When someone visits your website, do they see content important to them? You may have more than one prime audience that needs to be included in your home page. You may need to talk to consumers and distributors, or patrons and donors. Whoever you need to reach, be sure they can identify content they want immediately.
Example: American Red Cross has a home page that is clear, but reaches many different audiences. The first content area targets those willing to donate to the Red Cross, and immediately below that is a call for blood donations. The top two audiences are up front. But, if you're looking for classes or to volunteer, that information is on the home page as well.
Example: Our own Marketing Partners website serves three primary audiences and there are three distinctly colored audience buttons on the home page to help each audience find themselves and learn more.
What does your audience want?
When you have your personas defined, you need to explore what content your prime personas are seeking, and make that content available. I say focus on the prime personas, but don't forget you can still have content for others. As in the example above, Naturmetic has links for press and distributors – who are not their prime audience.
You want your home page to have content that is easy to find for your prime audiences. Then, bring them deeper in your site by proving useful, informative content. Blogging is a good way to develop content for your audience to keep them interested. You have to give before you get.
If you are a manufacturer that sells a consumer product and use coupons, you can make an offer for a coupon in exchange for contact information such as an email address. This starts engagement that gives you the tools to continue a conversation.
How do you differentiate audiences?
Lastly, when possible, customize your content for your audience. Whether you use page customization based on contact variables or simply segment your site content, be sure your prime personas can find the information they seek. Its not unusual to build complete site segments for different audiences (consumers versus distributors, for example).
Evaluate your site
Take a few minutes to evaluate your site.
Who is your audience?
Can they find content for themselves on your site easily?
Does that content provide value? Does it answer a question, solve a problem, or deliver a benefit?
Do you deliver custom or personalized content?
Is there a way for them to engage? (Social media, contact form, downloads?)
Want to know if your audiences can hear you now?