Everyone tells you that you need to research your potential customers, but no one tells you much about how to do it. Whether you are in a small organization or at a large company, you need good prospect research, and you may wonder where to begin and how to add useful details to that shadowy group known as 'potential customers.'
Mix Research Methods and Sources
Overall, you want to end up with a balance of qualitative and quantitative research, using both primary and secondary sources — a mix between interpretive observations and objective testing and non-refutable data. When you research prospects, your goal is not just to understand the statistical profile of a group, but also to appreciate the subtle nuances of an individual buyer and his or her thought process.
To help you get started, here is a list of five easy ways to learn more about your prospects. Included are both on and off-line methods, some of which require monetary resources and others that don't. Here are 5 ways to research your potential customers.
1. Use Google Alerts, Mention or Talkwalker Alerts

Are you leveraging the wealth of information available online to gather more information about customers, prospective buyers and purchasing patterns? If not, you should. I used to just say go to www.google.com/alerts to create an alert for each company or behavior and select the frequency for notifications you want to receive, but as Google alerts became unreliable over the past few years, I now recommend using either Mention and/or Talkwalker Alerts as well. Both of these Google alert alternatives do a much better job of monitoring social media networks and obscure blogs.
Whichever alert service(s) you're using, preview results to be sure your search parameters are set correctly. If your prospect is a publicly traded company or a small business active in their local community, you will quickly learn about their new initiatives, interests and activities. If you are trying to monitor the behavior of B2B tech buyers or consumers who are in the sandwich generation, for example, a Google Alert will let you know whenever new research is published.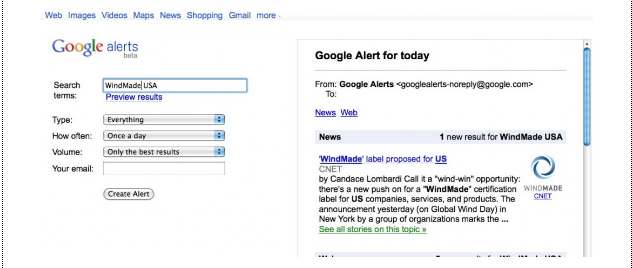 For the marketer, it's a perfect opportunity to monitor key trends, customers and specific prospects. (Make sure to send a note of congratulations, if for example, you see an existing customer or prospect wins an award.)
2. Interview current customers
This may seem obvious, but when was the last time you talked to your customers at any length? They are a perfect resource because they've purchased your product or service and are relatively accessible to you. Interviewing customers will not only give you insight into their decision-making process, it will also be a great opportunity to gather content for a case study. Offering to prepare and promote a joint case study can be a win-win for both you and your customer. In addition to talking to customers one-on-one, you can also consider surveying prospects or conducting focus groups. (The subject of a future blog post for sure.) Your goal is to identify common interests, information sources and challenges.
Be careful though. Remember that especially for professional services firms and nonprofits, each client or customer may be unique. It can be tempting to project the opinions and behaviors of a favorite nonprofit client onto every other nonprofit -- and go very astray. You might want to check out "How NOT to Use Customer Demographics in Your Marketing" on how to minimize this risk.
3. Study your web analytics
There's a ton of data accessible to you through your web analytics, but are you using it to learn more about your buyers and others with shared values and interests? Ask yourself questions such as:
What are the patterns of visitor behavior?
Where do they come from?
What keywords did they use to find you?
Where do they go while on the site?
How long do they stay?
What content formats are most popular?
Do these patterns tell you anything about where your customers are in their buying process, or what content is most effective at the different stages of their buying process?
Use this information to improve your website and landing pages to attract others interested in the same services, products or change issues. (This is step 1 if you're considering an inbound marketing program.)
4. Use your competitors and industry
Not only do your customers have access to more information than ever before, but so do you! One way to get great insights into your buyers is to study the websites and research or case studies that your competitors have published. Remember that 'your competitors' are a broad group that includes inaction, DIY software, or other financial professionals. By definition, your competitors are trying to reach the same audience of prospects. Reviewing their case studies might help you better understand your prospect, as well as why they may have chosen your competitor over you in the past.
In addition to following the competition, follow industry analyst blogs and reports.
5. Leverage professional social networks
Use the major professional networks (like LinkedIn and Quora), and try to find other, industry-specific networks where your prospects might be.
Offline (or IRL) consider collaborating with other professionals to sponsor a series of local 'Tuesday Morning Coffee Clubs' or other informal opportunities to talk with groups of potential clients and referral sources.
Both online and offline networks will help you better understand the daily challenges or successes your prospects have and in many cases, give you the opportunity to ask questions of that community and get real, thoughtful responses. These networks are also a great way to enhance the data you already have about people, and see how they are connected to other people within their own organizations or whom you know.
What other ideas would you add to this list?
If you have had success with a technique, or something is left out, please share your feedback.
Twitter @pheffernanvt
LinkedIn PatHeffernan
---
Editor's Note: This post was originally published in June 2011 and has 
been updated for accuracy and comprehensiveness.
---
photo credit CC: modified version of The Group, gregloby via flickr