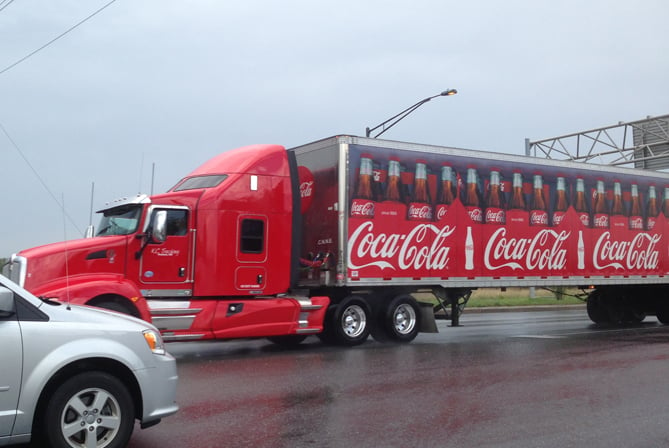 I started this series with the post Logo, Corporate Identity or Brand — What's the Difference?, which briefly defines these terms and what differentiates them. Since I often hear the terms used interchangeably, (and have even done so myself), it seems important to dive more deeply into distinguishing logo, identity and brand from each other and explain why they are not synonymous. In previous posts in this series, we explore logo design. Today let's look at what's involved in building and maintaining your corporate identity.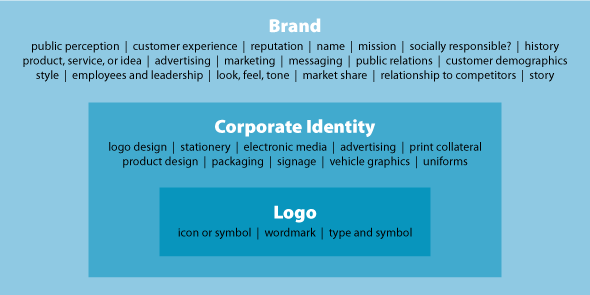 The logo is at the heart of a corporate identity. Logo and identity materials identify, inform and support the brand.
The bigger picture
A corporate identity is more than the logo—it is the bigger picture of all the visual and sensual aspects of a company. Naming, language, copy tone and feel; logo design; stationery; business card; marketing collateral such as print brochures and direct mail; product design, trade dress, packaging, point-of-purchase displays, label design; website design, social media presence, email template, and mobile app design; online, radio, magazine, television, billboard and display advertising; trade show displays, public presentations, seminars, press conferences, PR pitches and PR releases; retail and corporate architecture and interior design, corporate signage, employee uniforms, and vehicle graphics; branded promotional items, retailing support materials and swag. A corporate identity program needs to address all these potential impressions made by the company, and inconsistent application of the identity can result in a less that optimal brand perception. A corporate identity standard or style guide show how these should be implemented, and ensure every time the company makes an impression on the public, the manner, tone, look and feel is consistent with the established corporate identity, supporting and reinforcing the brand.
Brand management
Effective brand management includes strategic competitive market positioning of the company, product or service; maintaining the brand's reputation; ensuring that a customer's experience with a brand's product or service is positive, satisfactory and consistent; and building a relationship with customers in the target demographic. This process is facilitated with continued implementation and maintenance of the corporate identity. Once a business, along with their marketing and communications professionals, have established a corporate identity, it is important to choose reliable vendors and make the identity guidelines and assets available to those vendors, retailers, and their sales and marketing force. This needs to happen locally, regionally, internationally, to assure consistent experience everywhere a customer will experience the brand.
A customer's first encounter with a brand, usually through an advertisement, should be followed by a series of encounters—website visit, email promotion, social media site visit, store visit or service call, and final purchase—in which the corporate identity is reinforced. The website (or microsite) look and feel should match the advertisement or promotion; the social media presence and email communications should also mirror this tone; and when the customer visits a retail location, or meets a service provider to make the purchase or commitment decision, the experience needs to live up to, or exceed their expectations.
Philosophy and values
Your mission, values, purpose, culture and personality are essential but often less visible or tangible elements of corporate identity. These elements affect the public persona and brand perception by driving decision making, positioning, and marketing strategy. The more clearly they are defined, and the better articulated and consistently followed, the stronger your brand. (Shhhh, this is our clients' secret power.)
Building and maintaining your corporate identity
To establish—or transform—your corporate identity effectively, all materials must be aligned with your mission, values and purpose. As international branding expert Landor & Associates' Lulu Raghavan writes, "The wrong way is to change only the logo and nothing else about an organization, with the expectation that the company's image will automatically follow suit."