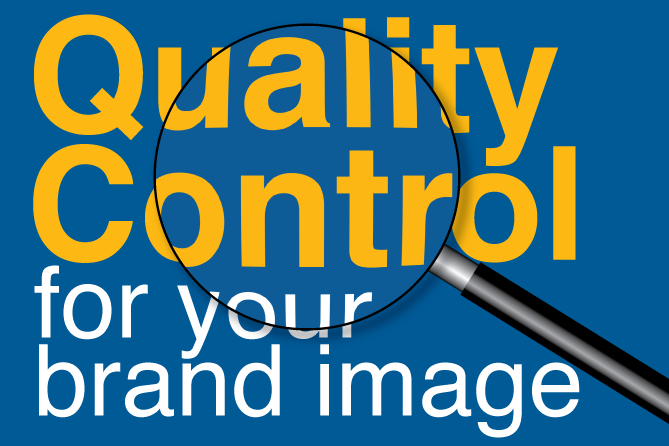 It's a familiar problem. You have invested a great deal of time and money to create a strong visual identity for your mission-driven organization. But the stuff that's out there in the public eye representing you is not consistent: colors don't match, your logo is stretched or fuzzy, or your promotional materials appear disjointed and don't speak with one voice. So your brand is compromised. Which can lead to doubt, distrust and lack of confidence in the quality of your service or product. How do you prevent it?
Managing multiple vendors, media outlets, creative contractors and your staff to maintain quality control for your identity materials can seem like a daunting task. Thankfully there are several simple steps you can take to make sure your brand is represented consistently in the best possible light.
Logo & Identity Style Guide or Brand Management Guidelines
If you don't have one or the other, you should seriously consider this. There are two options here, based on the quantity and diversity of your marketing materials and their reach:
The logo & identity style guide is a collection of do's and don'ts regarding the use of your identity materials. This should include color definitions for print and online / broadcast use of your logo, typography standards, and examples of how the logo should and should not appear, e.g., minimum clear space, use on backgrounds, minimum size, etc. Often it is included in the identity package supplied by your creative team.
A more comprehensive brand management guide will contain everything in the logo style guide and much more—brand strategy and story, company values, mission, lifestyle to portray, sample ad designs (print and online), email signature styles, photography style guidelines, copywriting tone and more.
Essentials you need from your design team or creative agency
It is important to note that your identity package, i.e., what you receive from your creative team upon approval and finalization of your visual identity, should include digital files of your logo in every possible iteration. There are several aspects of this to consider, based on your marketing strategy, the intended vehicles and reach:
These files will be formatted in CMYK (four-color process: cyan, magenta, yellow, black) or PMS (Pantone Matching System) to reproduce correctly when printed on any material.
These files will be formatted in RGB (Red, Green, Blue) or HEX (web-safe hexadecimal) to reproduce correctly when displayed on any backlit screen.
These files will be formatted in black, typically for use in printed pieces that are not full color.
These files will be formatted in black, with no shading or gradients. This version is necessary for printing processes that cannot reproduce any shading, typically items like mugs, pens, etc., or very small "bugs"—logos on the back of a credit card or in a small line of sponsors at the bottom of a page.
A reverse logo is formatted to be readable and look good on a dark background. Typically it is all white, with a transparent background. You can also have a full color version with just the type in white. This will most likely be either a transparent PNG or a vector file.
A transparent logo file will most likely be formatted as either a transparent PNG or a vector file, and is often required when putting the logo on a color background like a banner or header on a website.
Multiple formats and sizes
Logo files are formatted in two ways: line art and pixel. We've all seen pixelated logos. These fuzzy, hard to read, brand-killing horrors are one of the most flagrant violations of brand management. The way to avoid this is to always use line art files. Line art files (also called "vector" or "EPS") can be sized up or down with no difference in quality. Pixel-based versions (primarily JPEG format) are extremely limited, and need to be provided at the right size for the resolution at which they are being displayed. Simply put, if you have a 2-inch wide logo JPEG, it should never be displayed any larger, or you'll risk making a fuzzy impression on your audience.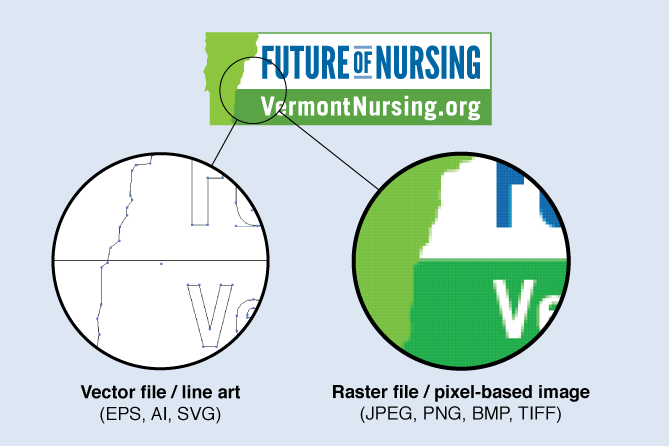 Logos can appear in multiple sizes and shapes, depending on what looks best for the brand. For example, some companies will opt for a horizontal and vertical version.
Different versions for different markets
Certain audiences may need a tagline, or no tagline, or a different tagline based on region or type of customer. Brand extensions may need different designations or identifiers. Divisions within a company may need a different line of type or color scheme.
Quality control for your brand: more than consistent visual identity materials
Your visual identity is more than just a logo. Achieving and maintaining quality control across all aspects of your brand's appearance means planning for every vehicle used, specifics of that medium and how those specifics relate to your marketing strategy, brand story, and messaging.
If different creative teams are producing materials for different media, they need strong guidance by your internal marketing manager or at the very least a brand management guide to assure consistency. Every impression of your brand on your customer or audience should be positive and consistent no matter the media—a TV spot should reinforce a print ad, which should reinforce a poster—you get the idea. Read more about overall brand management and consistency here in one of my previous posts.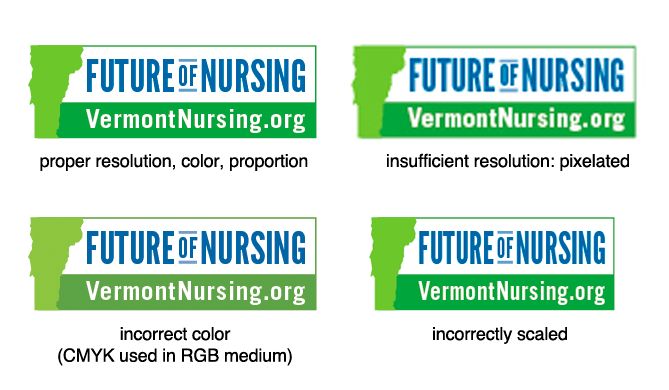 How do you make this happen now?
If you have inherited a mess, or simply suffered through a few lax years, quality control may seem like an insurmountable task with no easy solution. But it isn't. First, start by identifying the most obvious problems.
Is it that different people in your company are creating different materials and not communicating with each other? If so, then make sure everyone has a brand management guide, a creative process and approval protocol, then establish one point of accountability—a marketing manager or brand manager—who has the final say on all materials.
Is it that you have multiple vendors working on different projects with either too much creative license, no brand management guides, no consistent creative direction from your company or all of the above? Then make sure you have a strong set of brand management guidelines or logo & identity style guide, make sure all vendors have the same creative process and approval protocol, one person point of accountability within your company, and definitely make sure everyone has the right tools—the brand or logo guides and all approved digital files.
Are some materials suffering due to lack of budget, or from using discount service providers whose quality standards do not meet your own? First, it's better to not do anything than to put low-quality work out there. Second, if budget is an issue, and it almost always is, your quality control measures need to originate in-house, with the person you establish as your single point of brand quality accountability. Have a policy where that person requests vendor samples and multiple estimates to compare value.
Everyone needs to be on board with your brand—employees, contractors and media creative. If you have issues like these, set priorities and take definitive steps to correct each one, then create a policy to prevent similar issues in the future.
Last word
The time and effort that goes into documentation of your brand identity and standards will never be wasted. Your brand is your child, your responsibility, your charge. Consider a management guide and a set of approved assets, one point of accountability on staff, and proper vendor selection as the essential nutrients for its growth and maturity.