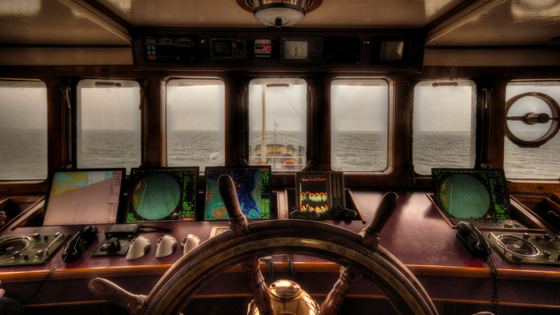 Long gone are the days when you only had a few social media accounts to worry about. Now there's an ocean of information and options to choose from. It seems like everyone wants to pull you onto a different ship. So how do you know which one will get you where you want to go? You may feel pressured to make your decisions quickly but investing time in researching the right choices will keep you afloat as you navigate toward being a social media marketing pro.
"I don't have time to be active on so many different social media accounts."
The surge of social media networks popping up may have you feeling this way, and rightly so. Maintaining social media accounts can take a lot of time and effort. But, at this point, social media is no longer a choice for businesses. If your customers are there, you should be there too.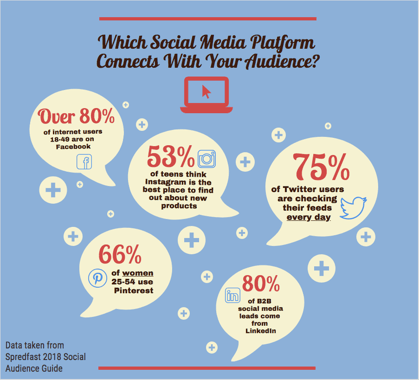 You aren't alone in feeling overwhelmed by the amount of time it takes to maintain all of the different social media accounts, but if the social-media-sphere is good for anything, it's innovation and adaptation. Social media management apps were created to help with that problem.
"Another app I have to download?"
Yes, it's another app to download. But, with social media management you'll find that it's a one-stop-shop for all of your social media needs. Let's breakdown just a few of the reasons why social media management apps are saving you time and energy.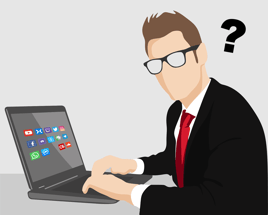 They allow you to work with all of your social media accounts in one place. No more switching back and forth between your different social media accounts on your computer or between different apps on your phone.
You will have access to analytics tools that help you see how well your message is being received and who/how many are seeing it.


You can have other people post for you or create your posts when you don't have time to do it yourself. Most even offer a screening service so you can approve other employee's posts before they are posted.
You can create "lists" and start monitoring on social media. You'll know what people are saying about you without searching, even if they don't tag you directly.


Most importantly, you can schedule posts for certain times and days.
"What's so important about scheduling posts?"
Creating a consistent schedule for your future social media activity is key to successful marketing on social media. It is the most useful service provided by social media management apps. An annoying task that took you 30 minutes every day, becomes a once a week task that will result in higher-quality content and less stress. Being able to take the time to write something thoughtful and relevant for every post, instead of hastily typing up a message minutes before it gets posted, will boost your social media presence immensely.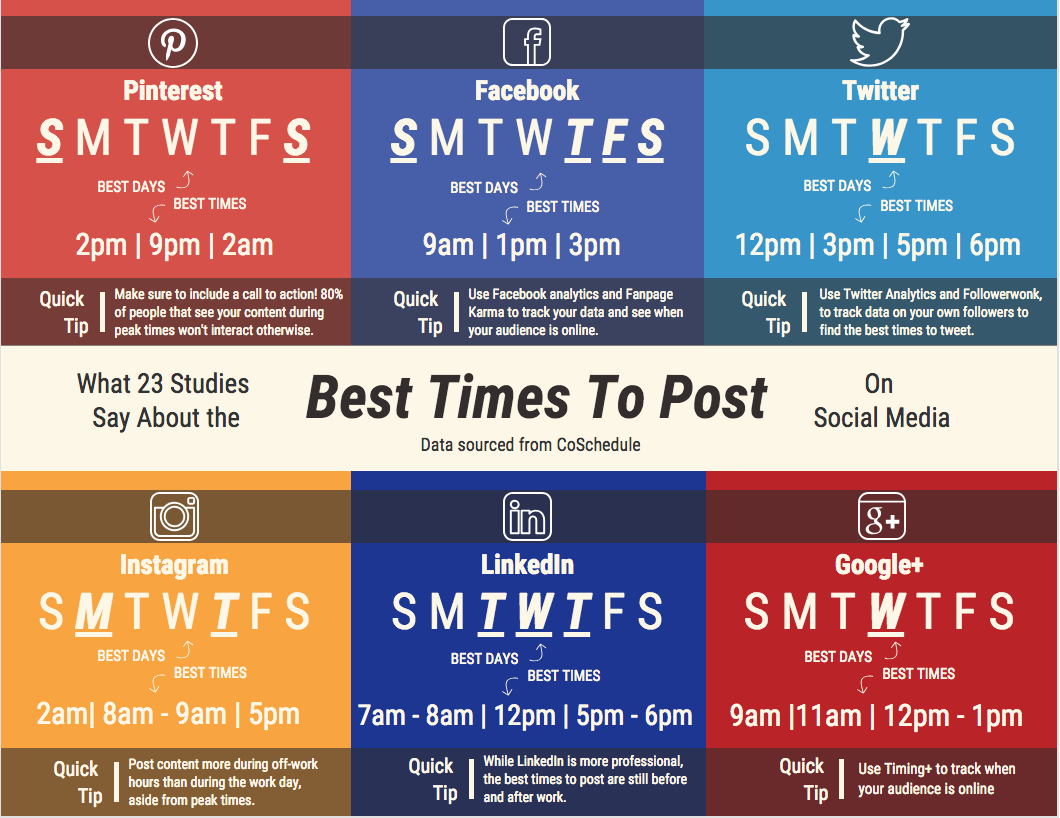 It also lets you take advantage of tons of research that help pinpoint the most likely times that your customers will see your posts. There is research on how often you should post on each network too!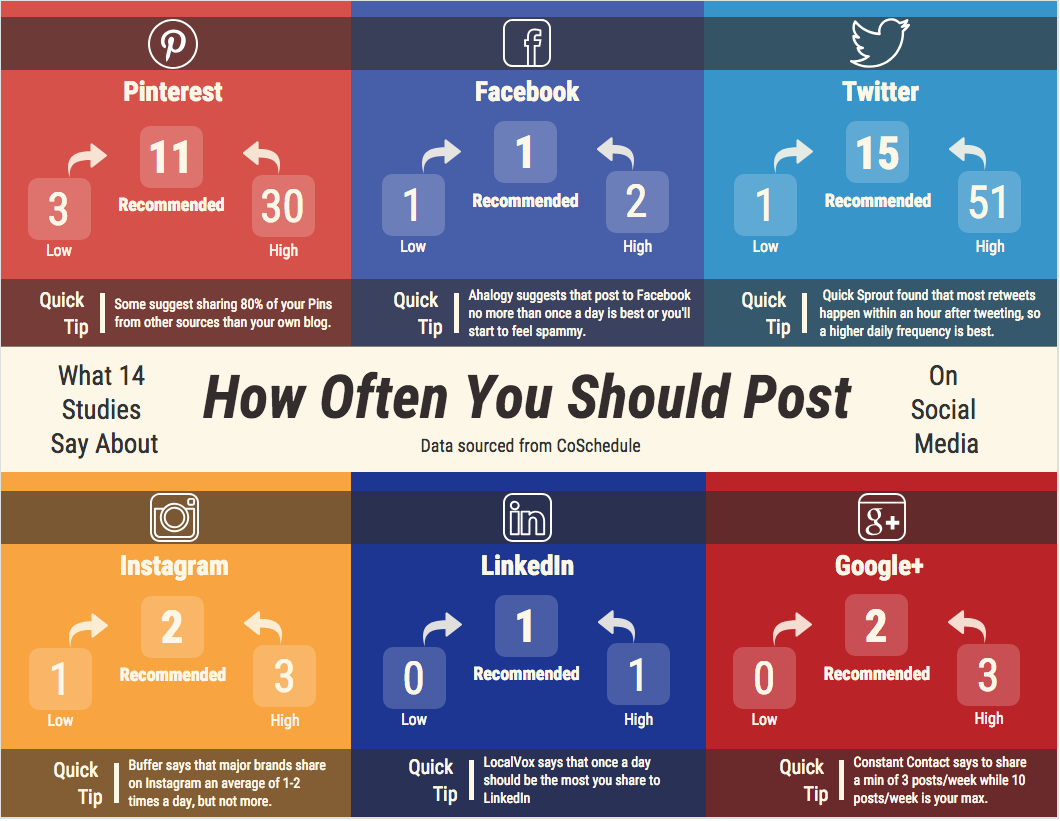 These times and frequencies may not always be ideal for you, but with scheduled posts, you don't have to worry about being too busy or forgetting. You'll know that your high-quality posts will go up at the perfect time at the right frequency to successfully engage your customers. If the frequencies seem too much, consider the "rule of thirds". It will help you reach your ideal posting frequency every week.
"Great! I'll get the social media management app and get started!"
If only it were that easy! There isn't just one universal app that falls under social media management, there are tons of options out there. I've determined these 4 apps on the market today offer the most value for a small business.
Hootsuite
CoSchedule
Buffer
Sprout Social
If none of these sounds familiar to you, that's okay. Let me break down the pros and cons of each app so you can determine which one seems like the right fit for your small business. Each one also offers free trials, ranging from a week to 30 days, so you can test each platform and choose which one is right for your business.


Pros:
Hootsuite supports the most social media networks out of these options listed. They are the only ones that support YouTube scheduling.
Creating streams to monitor your social media is simple to set up and offers great customizability.
Cons:
Hootsuite has the reputation of being complicated. You will spend some time learning to fully take advantage of all of its offerings.
The free version of Hootsuite is VERY stripped down. Most businesses will often find that they have to pick one of the paid options.
Price: Free, $19, $99, $599, + for Enterprise level

Pros:
CoSchedule is the best at scheduling your blog posts among these options.
They make it easy to collaborate between your team members and allows you to assign tasks to certain people.
Cons:
CoSchedule really lacks in functions for social media that isn't related to your blog posts.
If you're a seasoned blogger, it may feel like you don't need many of the tools offered.
Price: $40, $60, $300, $1200

Pros:
Very user-friendly interface. Even a novice can pick this up and use it effectively.
Their pricing is all-in-one, no extra costs for special features.
Cons:
It has less functionality to monitor others and keeps its focus on your own scheduling.
It has all the essentials, but not much else. (This could be a pro, depending on your view of these tools)
Price: Free, $15, $99, $199, $399

Pros:
One of Sprout Socials unique tools is the ability to keep track of users who have interacted with you or mentioned you. From here you can determine if that is someone you want to continue to pursue as a potential client.
Their tools make Customer Relationship Management easy. Keeping track of information in one organized place for each client.
Cons:
Sprout Social is the most expensive option listed here at the basic level. Not only is it $99/month for their cheapest plan, but that's per user.
They only support 5 social media networks, much less than most others on this list. (Facebook, Twitter, Instagram, LinkedIn, and Google+)
Price: $99, $149, $249
The Bottom Line
If none of these appeal to you, that's okay! These are just four options; a quick search will provide you with a long list of social media management apps that can help you and your small business. Marketing to your audience through social media is a necessity if you want to build relationships with your customers and maintain a strong brand image online. Social media can be daunting, but with a little help it'll be nothing but smooth sailing. To help you get started, download our free ebook to help you monitor your social media in just 10 minutes a day.
Resources: