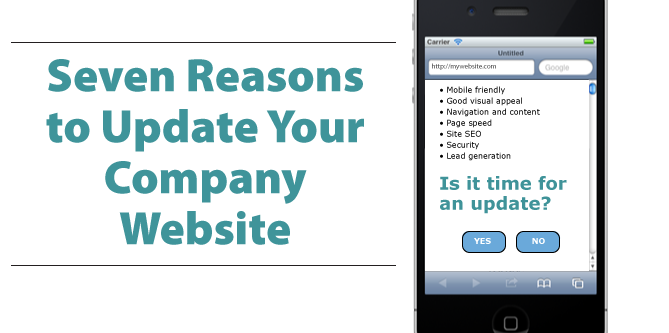 Your company website is the center of your brand identity, marketing, sales, and customer relations. More than 80% of shoppers do online research before they buy (AdWeek).You spent a lot of time and money to build your organization and develop your website so you don't want to repeat that effort unnecessarily. Let's look at seven factors to help you decide if it's time to update your website — or not.
Why It's Important
An outdated website design can hurt your search rankings and turn away customers, which is definitely not your goal. It's important to keep your website working hard for your business — every hour of every day. A redesign every so often will keep things fresh and freshen your look. You also need to keep your technology current – but that's a different topic.
So, how often do you need to redesign your site? The following seven factors will pinpoint whether you need a redesign now — or six months ago.
Mobile friendly
Visual appeal
Navigation and content
Speed
SEO
Security
Lead generation
Seven Signs It's time
1. Mobile-friendly web design is the standard
So, we list this first because having a mobile-friendly or responsive website design also affects the other factors. Consider the following:
Between browsing behaviors and search results, having a mobile-friendly or mobile-first website is a must.
2. Visual appeal for your audience
Your website needs to have visual appeal for your audience. Website standards keep evolving, as do visual standards. Large images, appealing colors, and open or flat design elements are the normal user experience. Words matter, but how those words look matters as well.
If your site looks professional and is loaded with useful information, visitors will see you as an authority and expert. Likewise, if your site looks poorly designed or out-of-date, they may make the same assumptions about your company.
Use your competitors and peers as examples to evaluate your own site. Are you keeping pace with your industry? Remember to check both your computer and phone views of your website. Both should be appealing and similar.
Your page elements need to look good and work on mobile devices. Links and buttons need enough room around them to prevent accidental clicking. The text needs to be easy to read and the navigation easy to use.
3. Navigation and content matter
Can your visitors find the information they're looking for? Website visitors are looking for information. Either they found you through search or they know who you are and want your information. Make it easy for visitors to know who you are, what products or services you provide, and how to find you. Information should be no more than two clicks away. Consider implementing site search, mega menus, and deep footers to link to popular content.
If you have high bounce rates (check your Google Analytics) that may indicate visitors are not finding what they're looking for on your site. Check your referral sources and search terms to see what your visitors are wanting.
Short content is out. Every good piece of content answers a question or solves a problem. Arrange and develop content to provide answers. Browsing preferences have changed and scrolling is preferable to multiple clicks. Use subheads and images to break up content and make it more visually appealing.
When possible, don't use PDFs or attachments, but format the content to fit your website. Your organization has a new brochure. Don't just post the brochure PDF! Use the content to make an optimized page that can be read without downloading.
Mobile users want content without downloads, sideways scrolling, or needing to zoom their screens to read your words.
4. Page speed is important
Bounce rates rise by more than 50% if a page takes more than 3 seconds to load. A slow site or slow page hurts your traffic (and conversions). Use Google Page Speed Insights and find out how long your site takes to load. If your score is low then you may need a website design update.
Optimizing images and minimizing CSS can help reduce page load time. Other factors include your website hosting company and hosting plan. If you're using WordPress, you may want to evaluate the use of plug-ins and remove any that aren't needed.
If you need a page redesign, starting with a mobile-first approach to limit load factors will also help with page speed on computers.
5. SEO or Search Engine Optimization
While content has the most influence on SEO, page design has an impact as well. There are choices in page design and element order that influence SEO, including alt tags for images and using styled text instead of graphics. A good page design will consider the site goals and optimization.
If your site is missing meta data and alt tags, or lacks the ability to add these, then it is time for an update.
6. Security matters
Don't have an SSL Certificate? Google is going to flag your website this year! Security matters to everyone. If your website does not use SSL security, then it is time to update it. You can check by going to your website and look next to the URL. Do you see a little padlock symbol and the word "Secure"? If so, you're all set.
But, if your website is not secure or has warnings of mixed content, it will be flagged and will most likely drop in rank for search results. If your site is not secure, it is time for a redesign.
7. Lead generation through forms, calls to action, and offers
Your website is out there providing information about your company, products or services, and interacting with prospects and customers. It is a clearing house of information. With more than 80% of shoppers searching information online before purchasing don't you want to find out who they are?
If your website does not have easy ways for visitors to sign up for information or join your email list, then it is time for a new website design.
Summary
You've spent a lot of time and money to build your organization and develop your website content. If your website doesn't get a passing score on these seven factors, then you should be planning your next update.