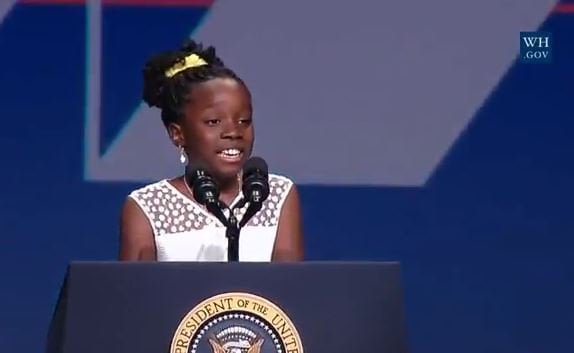 The White House hosted the United State of Women Summit on June 14, inspiring those participating both in real life and virtually. #StateOfWomen is a case study in an event done well. This photo of 11-year-old Mikaila Ulmer, founder of Me & the Bees Lemonade, as she introduced President Obama explains one reason why.
That reason is a consistent focus on the why — in this case, equality, diversity, and inclusion. As noted by attendees ranging from Wired magazine to the League of Women Voters, in addition to "political heavy weights such a President Barack Obama and First Lady Michelle Obama, Vice President Joe Biden, Representative and former Speaker of the House Nancy Pelosi, Attorney General Loretta Lynch as well as Hollywood elites, including Oprah, Tina Fey, Mariska Hargitay, Kerry Washington, Patricia Arquette, and national business leaders like Warren Buffett and Dina Habib gracing the stage," participants from around the country were all ages and more diverse than your every-day star-studded White House event. The #StateOfWomen consistently demonstrated the why of the summit.
As the New York Times noted, the promotion and outreach for the event was as diverse as its speakers and audience: website, pre-event video, YouTube, multiple blog posts, Twitter, Facebook, live streaming, tumblr, magazines, national TV news, and each of the top national daily newspapers. A lesson to take away for event planners: be everywhere your audience may be.