Rick Davis, co-founder and president of the Permanent Fund for Vermont's Children, was presented with the Vermont Community Foundation's 2015 Excellence in Philanthropy Award at the Community Foundation's Annual Meeting on September 17th. The event was held at Hildene, The Lincoln Family Home in Manchester and attended by more than 350 people.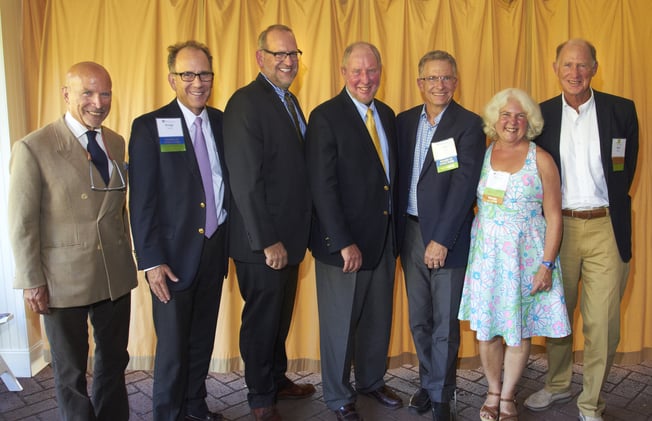 Noted Rick during his acceptance speech, "It takes a tremendous team effort in our quest to make Vermont the best place in the nation to raise children. We have far too many children born in Vermont with the cards stacked against them. We cannot afford to give up on any of our children. They are our economic engine for the future, and we have an obligation to give these kids a chance to realize their promise. With continued efforts and support, I know we will be successful."
The Permanent Fund is a supporting organization of the Vermont Community Foundation. Visit www.permanentfund.org to learn more.
Pictured above from left to right: Carl Ferenbach, Co-founder of the Permanent Fund; Staige Davis, Community Foundation Board of Directors; Stuart Comstock-Gay, Community Foundation President & CEO; Professor Robert D. Putnam, Guest Speaker from Harvard University; Tim Volk, Community Foundation Board Chair; Cheryl Mitchell, Co-creator of the Addison County Parent/Child Center and Permanent Fund Board Member; and Rick Davis, co-founder of the Permanent Fund and Excellence in Philanthropy Award Recipient.