At a Statehouse news conference, Net Zero Vermont Co-CEOs Deb Sachs and Dan Jones announced the winning design team for the Montpelier 2030 Design Competition $10K prize is "Team Bridges," a collaboration of 12 professionals from 10 companies and organizations.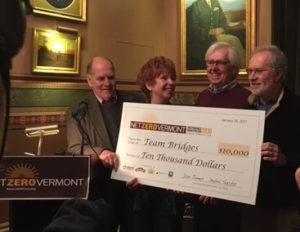 Governor Phil Scott, Montpelier Mayor John Hollar, Beth Rusnock for competition sponsor National Life Group, and members of Team Bridges also spoke, describing the process and its significance for Vermont.
Great coverage of the story from WCAX, the Times Argus, Montpelier Bridge, Green Energy Times, and VTDigger.