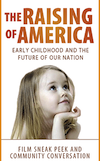 Let's Grow Kids and thirteen other Vermont organizations sponsored a sneak peek of a powerful new PBS documentary, The Raising of America: Early Childhood and the Future of Our Nation.
During the last two weeks of October, Vermont residents in ten counties had the opportunity to see the documentary sneak peek and participate in a local community conversation. Business leaders, pediatricians, early childhood professionals and parents lead these local conversations with the community.
The Bennington Banner, Rutland Herald, VT Digger and Vermont Business Magazine covered these insightful community events on the importance of early childhood.