Government & Public Sector Agencies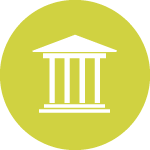 Marketing outreach for government and public sector agencies has long been a mainstay of the work we do at Marketing Partners — but only in recent years have we felt the need to identify this work separately. As the inclusive term social marketing became increasingly confused with social media marketing, we have started to use the emerging term public interest communication to describe our work on behalf of those working for the public good.
We add a deep understanding of the citizen-oriented headset, goals, special needs and constraints of your work in this sector to the state-of-the-art marketing communications tactics and techniques in our toolbox so these tools can be used effectively to engender citizen support for your agency, increase utilization of your products and services, influence positive public behaviors — even increase revenues and decrease operating costs.
Marketing Partners, Inc. is honored to have served for many years numerous national, regional and state agencies.
Nationally we are a recognized woman-owned small business, CAGE code oYLP9 for NAICS service codes 541430, 541611, 541613, 541618, 541810, 541820, 541830, and 541910.
In Vermont, the firm has worked with more than a dozen state agencies and departments over the past two decades and is registered with the State of Vermont Chief Marketing Office as a pre-qualified marketing firm and with the Vermont Agency of Digital Services (formerly the Department of Information and Innovation) as a pre-qualified website planner and designer.