HubSpot Certified Agency Partner
HubSpot's marketing automation software is custom designed for inbound marketers, offering integrated tools for blogging, search engine optimization, lead generation, marketing analytics, customer relationship management and more. Marketing Partners helps organizations like yours succeed with inbound marketing and, after years of using HubSpot for ourselves and for many clients, we have gained a great deal of insight and deep experience working with the HubSpot software platform. We make sure that your HubSpot investment is being used to its fullest potential.
Using the HubSpot Platform and Inbound Strategy
Many new HubSpot users become frustrated because they expect immediate, efficient integration once they sign on. But, because HubSpot software offers a suite of integrated tools it takes a good amount of time and expertise to set up the platform and integrate it with your own systems before it works for you. Plus, to be truly successful at inbound marketing, it's less about the specific platform you're using than it is about making the content, contacts, and analytics work in concert to serve your specific marketing goals.
A Team at Your Service
At Marketing Partners, each of our team members holds several HubSpot academy certifications and has developed the proven capabilities and skills needed to help you succeed with your HubSpot strategy, implementation, and maintenance. We can help you succeed with marketing, content, print and web design, strategy, user experience and more — available when you need us, scaled to your needs.
Unlike other firms, our team of inbound marketing specialists collaborate with your team members to develop and manage customer acquisition programs that work for your organization.
There are many reasons to choose an agency to assist with your HubSpot strategy, implementation, and maintenance. However, a HubSpot Certified Agency Partner is even better — providing tangible evidence of a level of quality control and external validation that you can rely on.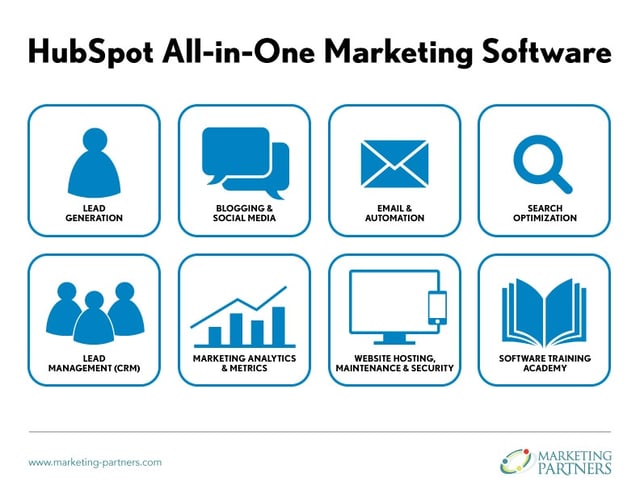 Please note that whatever the standard industry practice, Marketing Partners does not mark up out of pocket costs or accept commissions, nor do we act as a reseller.